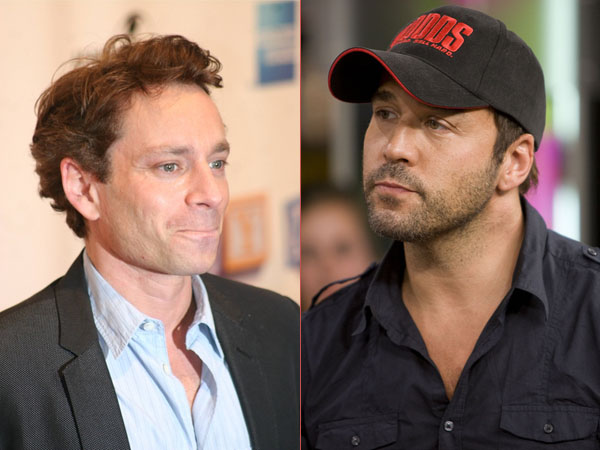 Am I the only one who finds Jeremy "The Piv" Piven rather douchey? He's always hitting on barely-legal girls and seems to give off the pungent stench of "gross". That whole controversy with him dropping out of a Broadway play because of sushi poisoning was weird too – and The Piv is still being sued for that incident. If I was going to say something nasty to him, it would be about the barely-legal girls, not the mercury poisoning. It seems SNL-alum Chris Kattan went the other route, though. The Piv and Kattan were backstage at MTV when Kattan made a crack about The Piv's play. The Piv proceeded to throw a massive hissy fit, and verbally attacked Chris in a "really personal" way, and Chris backed off, saying "Whoa, man – I thought we were just fooling around here." When Chris tried to apologize a little while later, The Piv just slammed the door in Kattan's face:
Jeremy Piven can't take a joke when it comes to that alleged mercury poisoning. Backstage at Alexa Chung's MTV talk show on Thursday, the "Entourage" star got into a screaming match with fellow comic Chris Kattan over the fishy situation.

Kattan – who's been in town talking up his IFC miniseries "Bollywood Hero" – greeted Piven with a snarky, "So, what are you here to promote, your Broadway play?"

Piven, who famously dropped out of "Speed the Plow" in December, is in a legal battle with producers who believe the actor fabricated his illness in order to get out of completing his contract, and was none too happy to be reminded of the incident.

The actor sniped back irritably, "Well, what are you here to promote? Mango?" – a reference to Kattan's swishy "Saturday Night Live" stripper character.

The actors continued to bark for a few minutes, but while Kattan thought the argument was in jest, Piven did not. Says an insider, "After some back and forth, Jeremy said something really personal to Chris that basically attacked his career. He said 'Whoa, man – I thought we were just fooling around here.'"

Not the right thing to say to the man who plays Ari Gold, apparently. "I'm getting sued for that s–t!" the actor shouted. "It's not funny!"

Our source adds, "Jeremy slammed the green room door right in Chris' face, and about 20 people in the hallway outside could hear him yelling obscenities. He was furious."

"Chris felt really badly about the whole thing, so about 15 minutes later he tried to approach Jeremy again to apologize, to tell him he was just kidding and that he didn't mean to offend in any way. But Jeremy wasn't having it at all. He slammed the door in Chris' face AGAIN."

Says Piven's rep of the incident, "Jeremy and Chris did see each other at MTV and they were joking around backstage before a talk show appearance, as many actors do. If it was interpreted as a fight, someone wasn't paying attention."

Kattan's publicist has a different take on the situation. "Chris mistakenly asked Jeremy if he was there to promote his play and Piven fired back with 'What are you here to promote, Mango?' Chris tried to apologize."

We still urge Jeremy to lighten up. Aren't comedians supposed to be able to take a joke?
[From Gatecrasher]
Chuckle. I could make a crack about bitchy C-list talent, but I tend to think The Piv might be considered B-List at this point. His turn on Entourage has won him some awards, so it seems he's in a better position, career-wise, than Kattan. I love it when men show their inner divas, though. It's hilarious. It would have been funnier if Kattan and The Piv had actually gotten into a slap-fight. I would have put money on Kattan in that case.
UPDATE: Part of the denial is already in the Gatecrasher piece, but The Piv's people just released another denial. They're protesting so loudly, it makes me think that there was a lot of truth to this story. Anyway, The Piv's mouthpiece says the same stuff that's in Gatecrasher, but adds a new detail, "If it was interpreted as a fight, someone wasn't paying attention, that's all. Both gentlemen spoke on the phone yesterday, there is no issue." Aw, sounds like The Piv called Chris to apologize. That's better than holding some immature grudge, so good for them.