Levi Johnston interviewed by sexy guest host Kathy Griffin on "Larry King Live"

Levi Johnston was one of the guests on Kathy Griffin's guest hosting appearance on Larry King Live last night. The two came as a couple to the Teen Choice Awards on Sunday and Kathy couldn't stop joking about the hot sex they were supposedly having. (Kathy also guest hosted the show around this time last year, in an episode on the paparazzi featuring Brooke Hogan – Link leads to video.)
Kathy was characteristically hilarious filling in for Larry, but once I got over her non-stop bawdy humor, I came away with the impression that this interview was pretty useless. It got a little tiresome and uncomfortable toward the end, and there wasn't much substance there. It was basically a running joke that got old after a couple of minutes and they were left to fill time. Levi was cracking up the whole time and he went along with it well, although he was obviously out of his element and got visibly embarrassed when Kathy took it too far. You could tell that he thought she was funny as anything and he was good-natured about it.
At one point Kathy asked Levi to identify celebrities from their photos. He couldn't name Hugh Jackman, calling him "the dude with the swords in his fingers," and had no idea who Amanda Bynes or Ellen Degeneres were.
The two chatted about Miley Cyrus' pole-dancing performance. Levi said he found it surprising that she was just 16 and said "she did her little thing on the pole. I thought it was a bit inappropriate for the teen awards." They didn't take it further though, despite the amount of comedy to be found in that incident.
Kathy then had Levi read a letter for Miley Cyrus from a fan, which made no sense. She later asked him about hunting moose in Alaska.
The only thing that Johnston revealed that was even semi-interesting was the fact that he had some kind of rift with his once-potential in-laws The Palins, but he was vague about it, saying "[Sarah] screwed all that up. I'm not really looking forward to being around that family anymore." We already knew this and it's not particularly newsworthy. I guess the main thing you can say about this interview is that Kathy interviewed Levi and that's supposed to be interesting enough on it's own. It was, for a couple of minutes and not for entire segment.
What's next for Levi? He seems to want some sort of media and/or modeling career. Kathy suggested that he become an underwear model, and he agreed. That sounds like a plan as he certainly isn't cut out to have a career in the media at all.
As an aside, Radar Online is reporting that Levi claimed "Sarah Palin Resigned Due To Marital Troubles." I watched the interview they're using to back up that claim and it's not exactly accurate. At first, Levi says Sarah resigned as Alaskan Governor because she was "taking the money." When asked directly "Do you think that [marital problems are] a reason why she stepped down" he says "Yeah, I do," but refuses to say much more or comment if cheating was involved. It doesn't seem enough to build a story around, but judging from this guy's appearance on CNN last night he sure needs a lot of prompting to come out with even a small amount of information so maybe Radar has it right.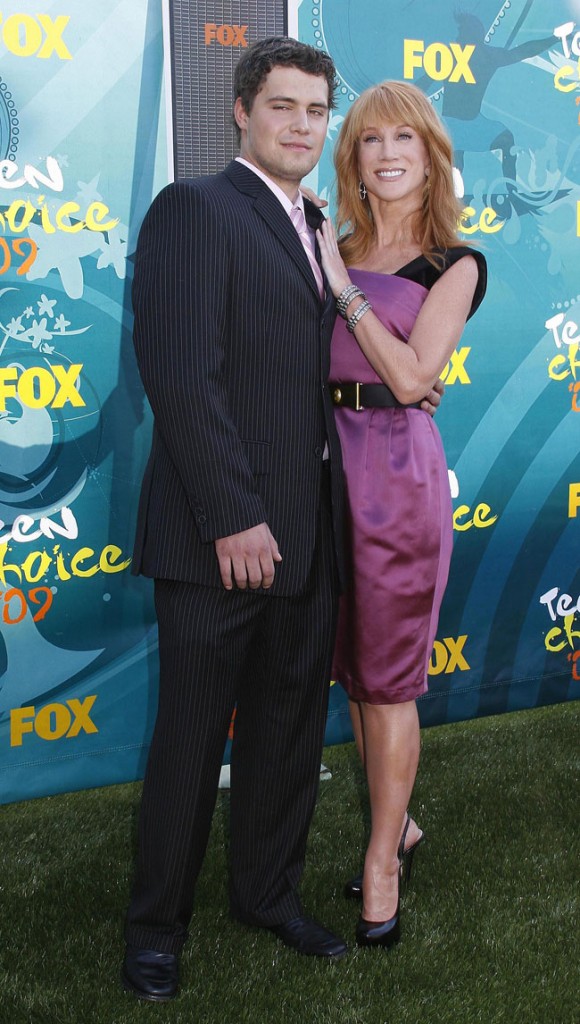 Written by Celebitchy

Posted in Kathy Griffin, Levi Johnston

- Harry Styles & Kimberly Stewart going strong [Lainey]
- Demi Moore's new man is gross [D-Listed]
- Fug or fab: Emma Stone [Go Fug Yourself]
- Arrest warrant issued for Jenelle Evans [Reality Tea]
- Only God Forgives review [Pajiba]
- Hugh Jackman, scooter master [Buzzfeed]
- Who does Drew Barrymore call her sister? [Evil Beet]
- Cannes couples past and present [Popsugar]
- Arrested Development supercut [CDAN]
- Lea Michele's see through skirt [Celebslam]
- Cheating wife's lover escapes out of window [Movin925]
- Joe Francis is crazy [Starcasm]
13 Responses to "Levi Johnston interviewed by sexy guest host Kathy Griffin on "Larry King Live""