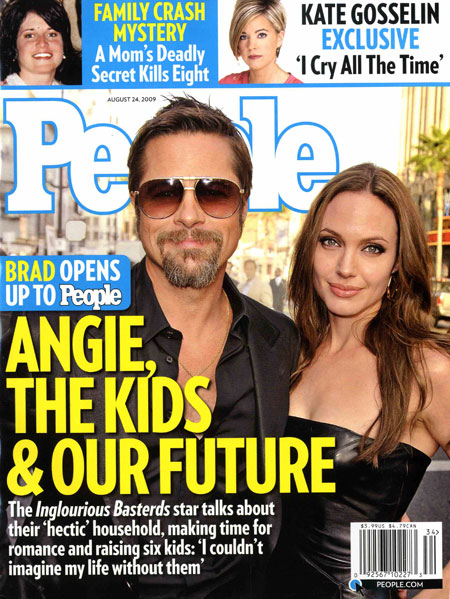 Brad Pitt and Angelina Jolie made the cover of People Magazine this week, with a story called "Brad Opens Up To People: Angie, the Kids & Our Future". The cover photo is a picture from the Los Angeles premiere of Inglourious Basterds - Angie looks nice, but Brad looks like he's two seconds away from drunkenly muttering lyrics to a Kenny Rogers song. Mostly this is because Brad foolishly wore his sunglasses the entire time on the red carpet, which is a bad idea. I don't care how bright it is. Let us see your eyes!
People hasn't released the full text of the cover story online, but some people have advanced copies, so there are some quotes here and there. My favorite part so far is when Brad is reiterating his pledge to hold off on marrying Angelina until gay couples are granted equal marriage rights. Or, in Brad's words: "Angie and I will not be getting married until George Clooney and his partner can legally do so." That's a good one, actually. Because there are a lot of people who think George is gay. And there are a lot of people who think George and Brad have the real romance for each other (me). E! has more from the interview, including more about Clooney and Matt Damon, as well as Brad's revelations about "getting dirty" with Angelina:
Brad Pitt has already given us sage advice on how to properly communicate at the urinal as well as sharing details about where he and Angelina Jolie like to bump uglies. So what could possibly be left to reveal when it comes to the Inglourious Basterds star?

Well, according to People, plenty…

For instance, did you know that if you went into the Jolie-Pitt garage, you would find a Snow White sticker on a Disney Princess bicycle?

What's more, the father of six tells the mag that sometimes, "Mommy and Daddy need to hire a babysitter, go away and get dirty."

Brad adds that he would much rather have George Clooney watch his children over Matt Damon, because "He doesn't stand a chance with my kids."

Unless, of course, Clooney breaks out the art supplies. "Our favorite activity to do with the kids is anything creative," says Brad. "As of late, we've been investigating the world of painting. Meaning we spread out a giant canvas and put out some buckets of paint and go all Jackson Pollock on it."

Oh, and when it comes to sleeping at night, the whole brood often ends up together. "This is why I had to make a 9-ft.-wide bed," jokes papa Pitt.
[From E! Online]
This isn't the first time Brad has brought up his kids in relation to George Clooney. He rather infamously told Extra that George "hates children" either in general, or specifically Brad's children. I for one would love to see George play babysitter for a night – he might surprise us. Or Empress Zahara might poison him with arsenic, after which Maddox will carve him up with a hunting knife, either/or. It's probably a lot safer to just get Matt Damon to babysit. I'm sure Matt and Zahara would get alone famously.
Header image thanks to CoverAwards. Brad is also shown at the premiere of The Time Traveler's Wife on 8/12/09. Credit: WENN.com