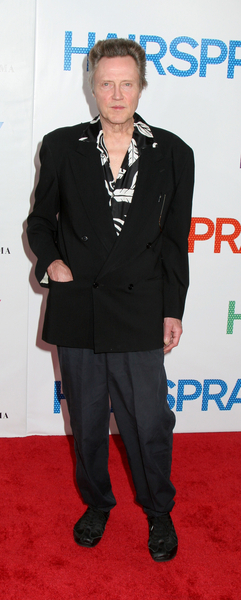 Funny as the headline is, I have to thank Christopher Walken for at least having a butt double. Many a male ego has thought it a good idea to show their butt, when in fact it is not. But Christopher Walken is one of those guys that's so cool, and with such an intensely loyal following, that I'm pretty sure people would cheer even his bare arse.
Christopher Walken is cracking up – he's holding auditions for a butt double for his new movie! Producers of Walken's new movie "Five Dollars a Day" bent over backward to please their star when he refused to go along with a script that called for him to bare his 64-year-old behind. "Are they crazy? I'm an old many now! I'm not going to show my *** on screen anymore for anybody!" Walken reportedly fumed. So execs came up with a solution: a butt double. But Walken has a clause in his contract that guarantees him final casting approval – so he was in the bizarre position of scrutinizing the buttocks that would pass as his own in the movie, said an insider.

The scene outside the casting office turned surreal, said one of the men who applied for the job. "About 10 to 12 men lined up to get Polaroids taken," said the insider. "We all knew we were being tested for Walken's stand-in, but that was all we knew." They got quite a surprise when they were asked to drop trou so a picture could be taken of their buttocks. "This is an audition for Christopher Walken's butt double," the staffer announced. The bottom line: There's got to be a better way to break into showbiz.
[From the National Enquirer, print edition Oct. 22, 2007]
I don't find that so weird. Whenever I'm auditioning my butt double, I take a bunch of Polaroids. Okay well let's be honest, I go digital (who the hell uses Polaroids anymore) but it's still the same premise. I could see why the headline "Be Christopher Walken's ass" wouldn't work so well for a casting call. But like I said, the guy's got quite the following, I'm sure they would have ended up with plenty of asses to choose from.