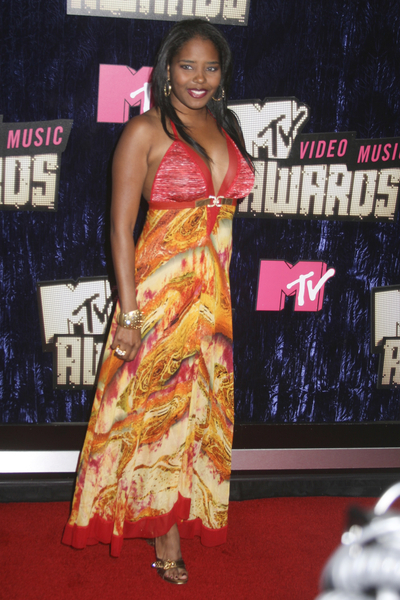 This article doesn't technically break the Britney Spears ban, because a). It's not really about her and b). I will be referring to her as Whitney Bears instead (kind of makes you think of Whitney Houston wearing a giant bearskin coat, doesn't it? Maybe using the head as a hood?). Shar Jackson, the woman who gave birth to Kevin Federline's first two children, won MTV's "Celebrity Rap-Off" yesterday. Shar was considered by most to be the best rapper on there, but was up against "The Girls Next Door" Playboy playmate Kendra Wilkinson – and let's be honest, showing your boobies will probably give you an unfair advantage.
Finding rap success in a way that ex Kevin Federline might envy, Shar Jackson was crowned last celebrity standing on MTV's Celebrity Rap Superstar – beating out Playboy Bunny Kendra Wilkinson.

"I couldn't believe it. I just knew Kendra had it since she was definitely a favorite." Jackson told PEOPLE exclusively, "It's hard to beat a Bunny!"

Jokes aside, Jackson reveled in the surprise victory: "I looked up at my kids and the look on their faces made me tear up. They were so proud of me."

The reality show, which recently gave Jackson an outlet to bash Britney Spears, opened up new possibilities for the Moesha actress. "If I can have a career having fun, that's just awesome," she said about making a name for herself in music. "I really, really enjoy it. Why not?"

Celebrating at the wrap party with her family and even Federline's parents, Jackson took a moment to remember what inspired her to join the show.

"I dedicate this whole thing to Lamont Bentley, who played my brother Hakeem on Moesha," Jackson said, "He passed away in a car accident two years ago and what he really, really wanted to do was rap. So I did all of this in his honor."

So what was Federline's advice? "He just wished me luck and told me to kill 'em." Her kids sent her off with a more gentle approach. "They gave me a bunch of big kisses," she said.
[From People]
A few weeks ago, Shar gave a really great performance of a rap she wrote called "Let it Blow" about Whitney Bears stealing her husband. A lot of people thought that's the song that really won the contest for her. Her best moment was when she looked into the camera and said "They should have had me open up at the VMAs!" Frankly she's pretty good, it probably would have been a better idea. Shar's been pretty classy about the whole Whitney Bear going crazy/messing up her life/being a terrible mother/terrible person thing. It was interesting to see her real feelings come out – and in a productive way.
Picture note by Jaybird: Here's Shar performing "Let it Blow."