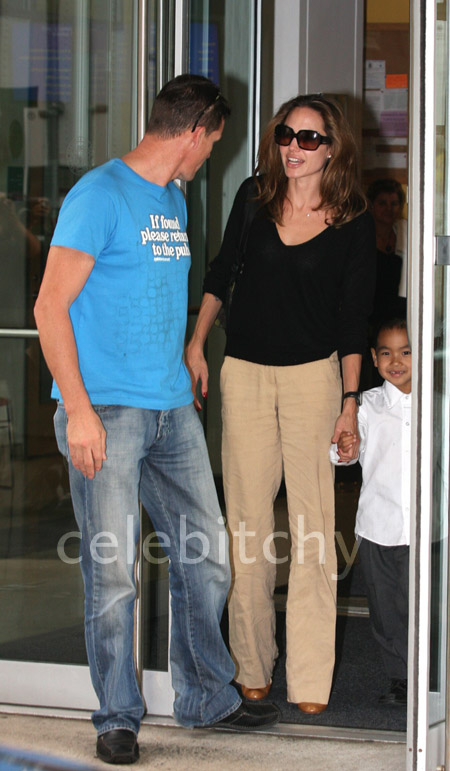 About a week ago, I wrote an article about Maddox Jolie-Pitt leaving his school after only six weeks because Brangelina were moving to Los Angeles for Angie's new movie. I speculated that it couldn't be great for Maddox to have to leave schools after such a short period of time. Several commenters pointed out that Army kids move a lot, which is very true. I'm under the impression that they generally don't have to move several times a year, and if nothing else, their parents don't have quite the same ability to choose not to move as Angelina and Brad do. What I have to say on the issue doesn't really matter because I'm just some random person, but the New York Daily News has decided to get a professional to jump on board.
BRAD PITT and Angelina Jolie may not be doing their four children any favors by constantly schlepping them from city to city around the world. The nomadic superstars, who have lived in at least a half-dozen cities in two years, may be hurting their eldest son, Maddox, 6, by pulling him from schools and the younger three by "not creating a stable environment outside the family unit," said Manhattan-based psychotherapist/social worker Puja Hall, who's been practicing for 21 years. "Maddox is an adopted child, so he already has a sense of abandonment," said Hall. "Kids that constantly move are like army brats, in that very often they don't want to open up to people. They feel loss, and there is a problem with attachment."

So far, the Jolie-Pitt clan has lived in New Orleans, Paris, Namibia, Berlin and, most recently, New York, where Maddox attended the prestigious Lycée Francais for just six weeks. Now they're in L.A., where Jolie is shooting "The Changeling." Pitt and Jolie are rumored to have enrolled at least one of the kids at Universal Studio's child-care center. "With the moves, the kids just don't invest in relationships, because they're going to lose them anyway," Hall told Page Six's Marianne Garvey. "They think: 'Why bother? I'm not gonna stick around. We're gonna pick up and go, and the loss of friends is painful.' "

Hall added that before Pax, 3, Zahara, 2, and Shiloh, 16 months, get any older, Angelina and Brad need to decide where to settle down. "It needs to be weighed," said Hall. "At some point, they will have to make some important choices so the kids can form those bonds and keep them."

That's not the only problem – the kids also seem to be skipping the waiting lists at the schools. "We would most likely not take a child for [just] a few months, because we have a waiting list. If we take them for two months and you pay for two months, we lose money and someone on the waiting list loses a spot," said an employee at Lycée Francais, where the yearly tuition is $18,000 plus a $2,000 contract-signing fee. "You still have to pay for at least half the year," the staff member said.
[From the Daily News]
So it would have behooved the expert to mention that he's (presumably) never met nor treated Brangelina's kids, so everything he's saying is professional conjecture, though it still carries some weight. I remember hearing a psychologist once say that human beings aren't nearly as original as we like to think we are – for the most part, we tend to react in pretty predictable ways. Still, if Brangelina manage to instill a love of adventure in their kids from an early age, they could thrive under their unique circumstances. Angelina's rep also noted that Maddox only attends Lycée schools (which are located throughout the country and the world), which may mean there's more stability than we thought. It's possible that if Maddox cycles between the same few schools through the years, he might maintain friendships with kids he meets often enough. One would also hope this means there's a little bit of similarity between the curricula, so perhaps Maddox's unique circumstances mean his moves aren't as jarring as one would think.