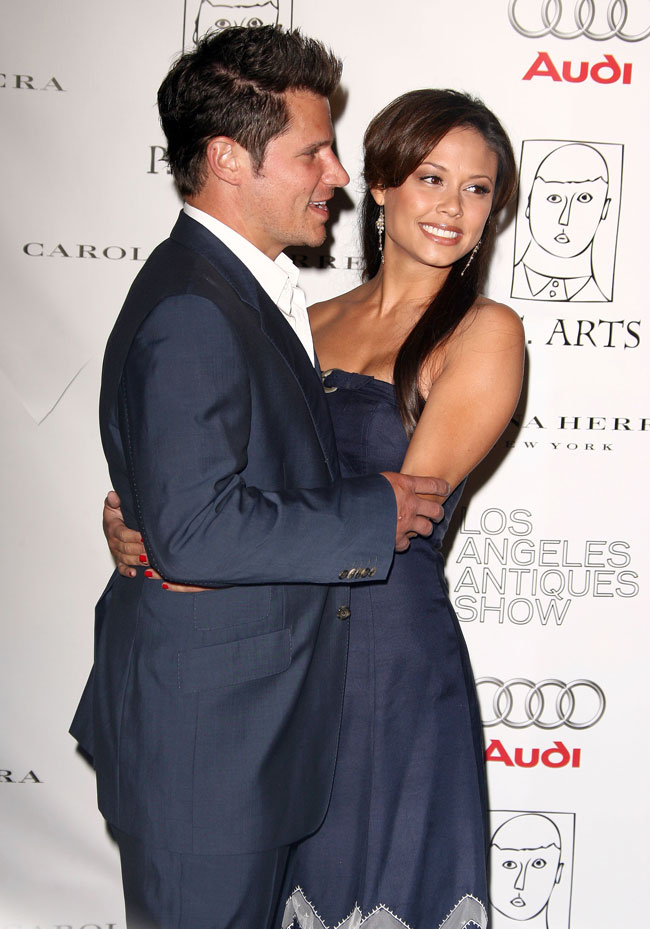 Nick Lachey has been busy since breaking up with Vanessa Minnillo back in June. Most of the stories had Vanessa pushing for some bigger commitment, considering she couldn't shut up about weddings, while Nick just seemed happy with the way things were. Just a few weeks after Nick and Vanessa split, Jessica Simpson and Tony Romo broke up, and the tabloids spent a few months trying to enable "Nick and Jessica are getting back together" stories. They kind of fell flat though – Nick didn't seem interested, and he was spotted out with random chicas all over the place. Meanwhile, Vanessa kept quiet except for the odd report of a Topher Grace makeout session.
After their summer apart, Radar is reporting that Nick and Vanessa might be back together. They were spotted hanging out and making out over the weekend, and spectators claim they were looking very couple-y.
Nick Lachey and Vanessa Minnillo are giving love a second chance (at least for a night), RadarOnline.com has exclusively learned.

The pair broke off their three-year relationship in June, but you would have never known it with the way they were together at the hip Dime bar in Los Angeles. Hot 'n heavy only begins to describe it!

A spywitness at the tiny hotspot on Fairfax Avenue told RadarOnline.com: "They were making-out in one of the booths and seemed totally into one another. They were having a great time and definitely appear to be back ' on.' They didn't care who saw them."

Another source told RadarOnline.com that Nick and Vanessa came in with friends around 11:30 p.m. and stayed approximately two hours. They were drinking and about 20 minutes after arriving started making out. At one point she sat on his lap as they kissed.

In between PDA's with Nick, Vanessa took to dancing with a couple of girlfriends while beaming Nick watched.
[From Radar]
Meh. I know a lot of people really like Nick – and so do I – but I kind of think he could do better than Vanessa. I also think he might be kind of a jerk to Vanessa, because he so obviously does not want to get remarried. Which is fine (once burned, twice shy, et cetera) – it's just that Vanessa really, really seems to want that, and I kind of feel like Nick is leading her on. Maybe they're not really getting back together though – perhaps it was just a fun night between two exes who remained friendly. I could buy that.
Nick and Vanessa are shown on 4/22/09. Credit: Fame Pictures