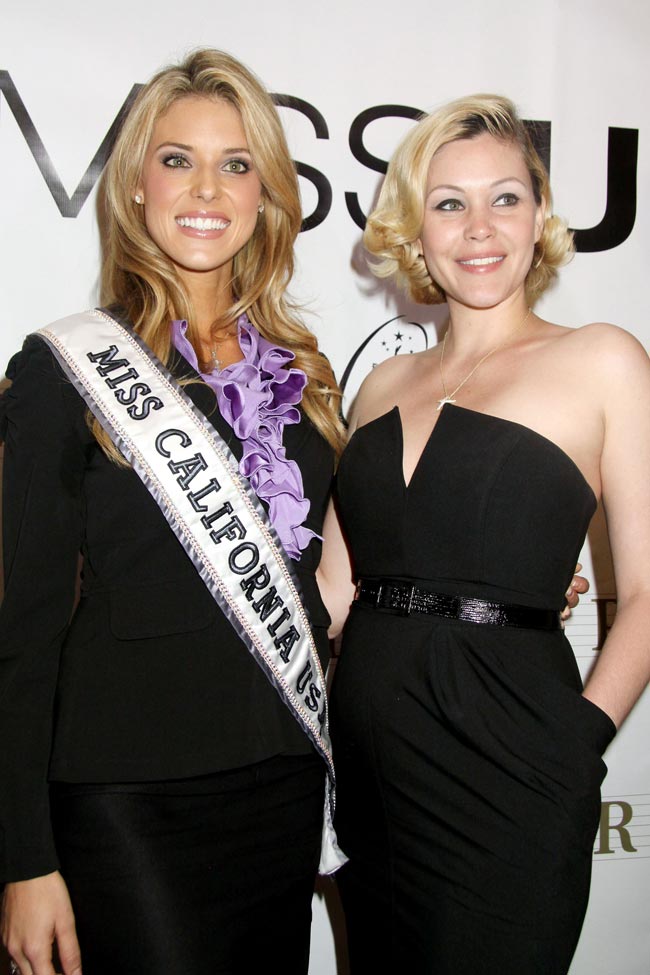 Yesterday former Miss California and Miss USA runner up Carrie Prejean filed a probably frivolous lawsuit against the Miss California pageant for making the details of her eventual firing public. Prejean claimed that her title was stripped because of her answer at the Miss USA pageant against gay marriage, and solely for that. Miss California Pageant directors made a clear and compelling case that Prejean was skipping out on her responsibilities, including refusing to communicate with them and missing event appearances. In case you were wondering if there was any reason to believe Carrie's side of the story over the Miss California pageant, just read some of these very rude, very dismissive e-mails she sent to pageant director Keith Lewis. Those e-mails, in which she wrote things like "Stop speaking for me. I have MY own voice." and "What are u gonna do fire me for volunteering for the special olympics hahaha ur crazy No I am doing this appearance," were dated after she was given a second chance with Miss California, courtesy of Donald Trump. The comb-over king was initially so blinded by her pretty face that he was unable to see that spiteful things spewing out of it.
The other Miss California pageant director, Shanna Moakler, resigned her position when Carrie was first forgiven by Donald Trump. Moakler has issued a response through her lawyer to Carrie's lawsuit, essentially saying that the girl made her bed and will have to lay in it. I love how blunt Moakler is in this statement, saying "Ms. Prejean's unfortunate and bigoted statements are responsible for any public humiliation or damages to her reputation that she has claimed to have suffered."
Fallen beauty queen Carrie Prejean sued the Miss California USA pageant and co-executive director Shanna Moakler on Monday alleging religious discrimination, drawing a sharp rebuke from Moakler's camp.

"On Ms. Moakler's behalf, I can say unequivocally that Ms. Prejean's lawsuit is without merit," says Mel Avanzado, Moakler's lawyer.

"More importantly, as everyone who watched or read her public statements is well aware, Ms. Prejean's unfortunate and bigoted statements are responsible for any public humiliation or damages to her reputation that she has claimed to have suffered," Avanzado added. "Ms. Moakler strenuously denies that she did anything wrong and looks forward to proving that in a court of law."

Prejean was fired in June by pageant officials who cited missed scheduled appearances. But an attorney for Prejean says his client was ousted because of her anti-gay marriage stance. In April, during the Miss USA pageant, she stated that marriage should be between a man and a woman.

Prejean, 22, is also suing for libel and slander, and also names co-executive director Keith Lewis and publicist Roger Neal in the lawsuit.
[From People]
As Kaiser noted yesterday, Prejean's lawsuit isn't going anywhere. There's way too much evidence that she violated her contract over and over again. Having watched Moakler and Lewis' impassioned press conference detailing the ways that Prejean had violated her contract – with several sets of nude photos she failed to disclose, with a public endorsement of an outside agency, and by failing to get in contact with them for weeks, I have to say there's little chance this lawsuit will go forward. This woman just wants to get her name in the press again, and she's succeeding, but she's also continuing to show what a self-centered creature she is. It's all about her and how she was wronged. I hope she's saddled with legal bills from both sides, and maybe that will give her something to really whine about.
Shanna Moakler, Carrie Prejean and Keith Lewis are shown on 5/12/09. Credit: WENN.com