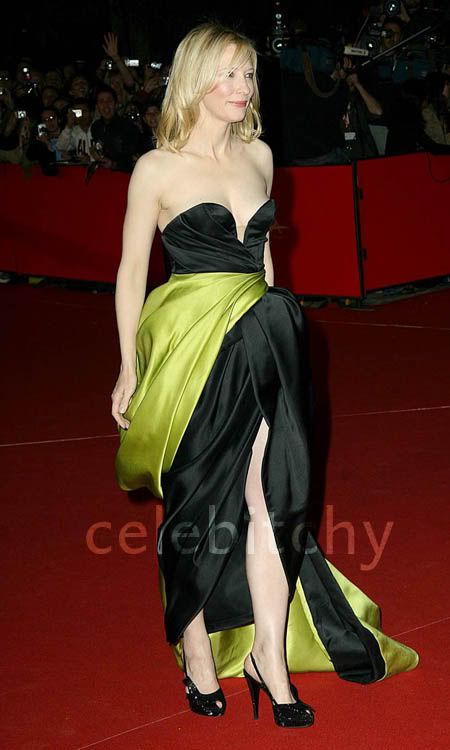 A little over two weeks ago, we were declaring Cate Blanchett pregnant after she gained some weight and was looking suspiciously fuller than normal in the stomach area. In the latest photos of Blanchett out at the premiere of Elizabeth: The Golden Age this weekend in Rome, she is wearing a lovely strapless dress with plenty of pleats across the midriff and a lime green sash and train to detract from that area. Blanchett hasn't been seen out in a form-fitting outfit in at least two months.
Blanchett is at the Rome film festival to promote Elizabeth: The Golden Age. The film is being criticized for playing fast and loose with history and for being too melodramatic. It currently has a low 28% aggregate critics rating on Rotten Tomatoes. Although the film is not that well-received, Blanchett is receiving praise for an incredible repeat performance as the queen of England, and there's Oscar buzz around her role:
Fictionalizing history is a noble literary crime that goes back to Shakespeare and Homer. The real issue arises when it makes the drama feel inauthentic. And some of The Golden Age's more opulent excesses — from its torrid score to its painterly vistas of a digital armada — have a counterfeit ring.

But the cast keeps it real. Even if his Raleigh is overwritten, Clive Owen makes a delicious meal of the role. Unlike Joseph Fiennes, Elizabeth's unctuous lover Robert Dudley in the first film, this smouldering suitor has charisma to match the queen's. Returning as spymaster Walsingham, Geoffrey Rush uncovers a realm of pathos beneath the cunning. As Bess, Abbie Cornish has the allure of a young Kate Winslet. And Samatha Morton crackles as Mary — even if her beheading is staged with the elegance of a coronation, rather than the botched hack job that actually took place.

Blanchett, meanwhile, is magnificent. There's an emotional translucence in her pale chameleon features. The intelligence is visible. You can see moods play across her face like wind on water: fear, whimsy, flirtation, suspicion, calculation, rage — and iron resolve. As a politician empowered by fashion, she's equipped with a fantastic repertoire of wigs and costumes, culminating in her appearance as an armoured warrior on a white horse, unleashing the fury of God and England on the invading horde. Female roles do not get more heroic.
[From Macleans.Ca]
Elizabeth: The Golden Age also stars Geoffrey Rush, Samantha Morton, and Clive Owen and is currently out in US theaters.
I'm surprised the tabloids haven't yet called Blanchett pregnant given all the signs, but she has two children and has been married for ten years. It's not as sensational when a celebrity gets pregnant if it's not her first child and she doesn't make it known that she's yearning for a baby. Blanchett has two boys, Dashiell John, who will be six in December and Roman Robert, who is three and a half. Her husband is playwright and screenwriter Andrew Upton.
Blanchett is shown at the premiere of Elizabeth: The Golden Age at the Rome film festival with her co-star Geoffrey Rush on 10/20. She is also seen at a photocall for the film on 10/19. Thanks to Splash News for these photos.