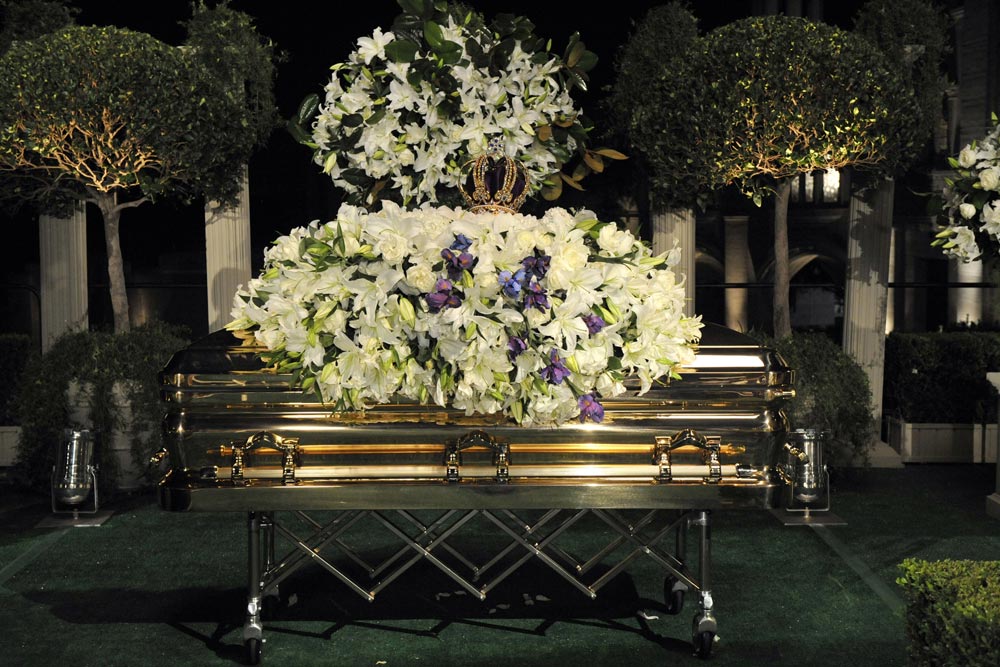 Michael Jackson was finally laid to rest last night in a private ceremony at Forest Hills Cemetery in Glendale, California. Friends and family including Liz Taylor, Macauley Culkin, and Chris Tucker were at the ceremony for the King of Pop, who passed away over two months ago from an apparent accidental drug overdose. The Jackson family was an hour and a half late to the cemetery, arriving in their motorcade around 8:30 despite a start time of 7:00 pm. Mourners waited patiently in nearly 90 degree weather for the Jackson family to arrive. When the outdoor ceremony began, Micheal Jackson's three children placed a jeweled crown on top of his casket. It was also covered in white flowers, with white lilies and roses throughout.
Jackson will be interred in a mausoleum in Forest Hills that is not open to the public. The Associated Press has reported that the Jackson family has purchased 12 plots in Forest Hills Glendale, although they don't specify where they are or whether family members plan to be buried in the mausoleum near Michael.
The Jackson family has released some photos to the public of the ceremony, and we have some of those here. They're also said to have used artificial lighting that suggests that the private funeral may become publicly available, either through a reality show or DVD release, at some point:
aris Jackson wept as she stepped into the mausoleum where her father, Michael, was to be entombed. Katherine Jackson, overcome by sorrow, turned back when she was faced with her son's final resting place.

On a sultry Thursday evening, amid a sea of white flowers and with a bejeweled crown placed atop his casket by his children, the King of Pop was given an intimate, private version of the lavish public memorial held shortly after his death in June.

Gladys Knight performed the hymn "Our Father" (The Lord's Prayer) and moved many to tears, according to one guest who asked not to be identified because of the sensitivity of the day.

When it was over, many of the the 200 mourners hugged each other. Among them were Elizabeth Taylor, Jackson's ex-wife Lisa Marie Presley, Barry Bonds and Macaulay Culkin.

The Rev. Al Sharpton, who gave a eulogy at the public event and at Thursday's service, also extolled Knight's earlier performance of "His Eye is on the Sparrow."

"Gladys Knight sang her heart out. Now we prepare to lay him to rest," Sharpton posted on his Twitter account during the service that was held outside and then within the marble mausoleum.

The mourners followed the crowned, lushly flower-draped casket as Jackson's five brothers – each wearing a bright red tie and a single crystal-studded glove – carried it into the mausoleum. The 11-year-old Paris cried as the group entered the imposing building and was comforted by her aunt, LaToya.

Paris and brothers Prince Michael, 12, and Prince Michael II, 7, known as Blanket, began the service by placing the crown on their father's golden casket. They were composed through most of the hour-and-a-half ceremony.

As it ended, Katherine Jackson appeared extremely weary and had to be helped to her car, according to the guest. Earlier, she had a difficult time going into the mausoleum; she was overcome, turned back, and it wasn't clear if she went in at all, the guest said.

The Jackson family's tardy arrival delayed the service for nearly two hours; no explanation was given to mourners. The invitation notice indicated the service would begin promptly at 7 p.m.; it began closer to 8:30.

The 77-year-old Taylor and others were left waiting in the late summer heat, with the temperature stuck at 90 degrees just before sunset, and some mourners fanned themselves with programs for the service. As darkness fell, police escorted the family's motorcade of 31 cars, including Rolls-Royces and Cadillacs, from their compound in Encino to Forest Lawn, about a 20-minute journey, with the hearse bearing Jackson's body at the end.

About 250 seats were arranged for mourners over artificial turf laid roadside at the mausoleum, and a vivid orange moon, a mark of the devastating wildfire about 10 miles distant, hung over the cemetery.

There were two oversized portraits of a youthful, vibrant Jackson mounted next to the casket amid displays of white lilies and roses. At Jackson's lavish public memorial, red roses covered his casket.

A large, blimp-like inflated light, the type used in film and television production, and a boom camera hovered over the seating area placed in front of the elaborate marble mausoleum. The equipment raised the possibility that the footage would be used for the Jackson concert documentary "This Is It," or perhaps the Jackson brothers' upcoming reality show.
[From AP via The Huffington Post]
It seems like so long ago that Michael Jackson died, as if we've somehow learned something about life since then. I know that sounds so esoteric, but it's hard to describe it. It's like those of us who grew up with his music all kind of faced our own mortality when he passed. Seeing these photos of his friends and family tears at my heartstrings. RIP Michael, you will not be forgotten.
(We usually do not publish photos of private funerals, but these are the ones released by the family.)