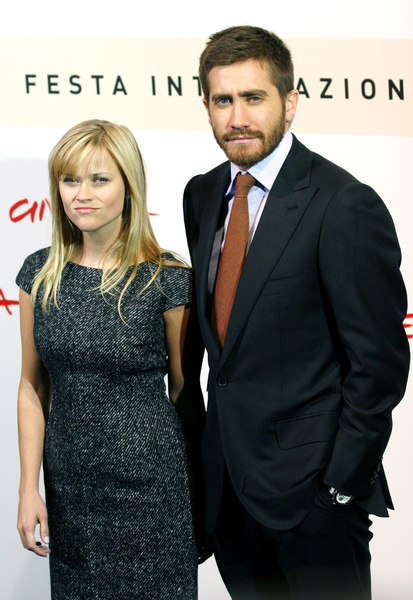 Reese Witherspoon and Jake Gyllenhaal have really been messing with my emotions the last few months. Are they really together? Are they just super-supportive friends? If that's the case, why did they appear to break up and stop speaking to each other? And if that's the case, why were they photographed holding hands and kissing at LAX yesterday? Really, I'm not sure my heart can take much more of this topsy turvy romance. This is about more than just the two of you! Jerks.
Are they making it official? On today's Ellen DeGeneres Show, Reese Witherspoon finally spoke out about her on-again beau (and Rendition co-star) Jake Gyllenhaal. When DeGeneres told Witherspoon, 31, Gyllenhaal, 26, was cute, the Oscar winner gushed, "He's great!" The day before, new photos surfaced of Witherspoon and Gyllenhaal (dressed in matching black T-shirts and jeans) strolling hand-in-hand and smooching at Los Angeles International Airport October 22.

The pair had been returning from Rome, where they were promoting their new film. On October 19, Witherspoon, 31, was spotted resting her head on Gyllenhaal's shoulder while walking through the streets as they enjoyed some downtime. Looks like the couple may be comforting each other even more from now on: Their buzzed-about CIA thriller bombed at the bomb office, coming in at No. 9 with $4.2 million.
[From Us Magazine]
Well they must be making it a little official… I mean kissing at LAX isn't exactly like kissing in the men's room at the Tad's Steaks in Time's Square (not that I have ever done that, mind you). People are probably going to see. Especially if you're famous and have been trying (but not really that hard) to have a secret relationship with your actor/actress boyfriend/girlfriend. I think Reese and Jake make a super cute couple and totally make sense together. I hope they go public so the speculation can stop and the paparazzi can begin. I kid, I kid. But I'd like a few more happy photos please.
Picture note by Jaybird: Here's Reese and Jake with Gavin Hood at the 2nd Rome Film Festival Photocall for 'Rendition.' Header image of Reese and Jake trying to look like they're not a couple. Or so I think.