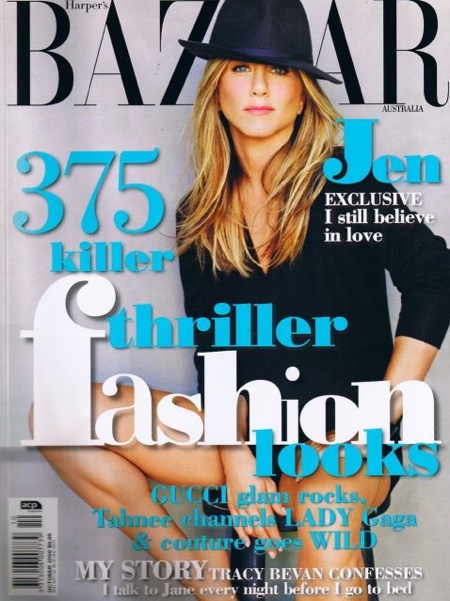 Jennifer Aniston is the October cover girl for Australia's Harper's Bazaar. The only reason I'm covering it is because it looks like Jennifer actually sat down and did a photo shoot and an interview with the magazine, as opposed to the mag just using an old photo shoot and cobbled-together quotes. At first I did think it was an old photo shoot, because I seemed to remember a very similar/identical pants-less get-up for a photo shoot Jennifer did with People Magazine… that I've just looked up. I've just been comparing the photos and… yeah… it may be an old photo shoot. Unless Jennifer decided to do yet another photo shoot pants-less, wearing a black v-neck sweater and sitting on a black stool in front of a washed-out blue-grey background. The only difference I can see is that Bazaar seemed to add a jaunty black hat on Jennifer, which I like very much. She should wear hats more often, they look good on her.
While I still have questions about the photo shoot, the interview sounds totally legit. And by "totally legit" I mean "Jennifer says the same things in different ways in most interviews." The whole interview is to promote Jennifer's new film, Love Happens, which also stars Aaron Eckhart. He plays a self-help guru, Jennifer plays an "eccentric, unlucky-in-love florist" with great hair, of course. Bazaar calls Aniston's fashion sense, "classic, almost minimalist" and applauds her "keeping-it-real" style. The author describes Jennifer's outfit for the sit-down interview: "a pair of snug jeans and a short-sleeved lacy cotton black top, adorned with nothing but her long, flowing hair and a man-style gold Rolex watch." I prefer men's watches too. Here's an excerpt from the interview:
Harper's Bazaar: How is it that your hair looks so perfect, even in this rainy weather, when everybody else is having a bad-hair day?
Jennifer Aniston: "Um, I have people."

HB: Several of your recent movies have been about relationships — whether in the dating world or about married couples. Has it been important to you to have closure when a real-life relationship ends?
JA: "I think it's important to have closure in any relationship that ends — from a romantic relationship to a friendship. You should always have a sense of clarity at the end and know why it began and why it ended. You need that in your life to move cleanly into your next phase."

HB: Are you still a romantic or have your relationship experiences made you cynical?
JA: "I'm still a romantic. I still believe in love."

HB: Do you think that women in general do too much in relationships?
JA: "Oh yeah. I think that's because it's just instinctual as a woman to be the caretaker of your home. Women complain that men don't do enough, but it's your own fault. You train your man to do nothing. You can't blame someone for not knowing what his or her job should be if you don't ask for it right off the bat."

HB: Why do you think the romance goes out of a relationship?
JA: "I think it's laziness. I really do. I think a good relationship is about collaboration. That's the way to go in a relationship. I think you just need to talk to each other. Say what you need. Say what you want. That way it's not threatening. You just need to say, 'This is important to me.' Don't expect your mate to read your mind."

HB: You seem to imply that your work success is because of luck. Are success and luck the same thing? Is luck how you got to be so successful?
JA: "I don't know. I've never sat and plotted out how I was going to become successful or famous. I just really wanted to work — to do good work — ever since I was at the High School of Performing Arts [in New York]. My Russian acting coach told me I was a disgrace to the Moscow Theatre. So I was determined to prove him wrong and do good work. I've never had my eye on a prize. I really wanted to enjoy the passage of time. Before Friends and the success of that I have a graveyard of sitcoms that, thank god, you don't know about. I was happy to get a job every year, whether it went on or not."

HB: You've talked about doing very different types of roles in various films such as The Break-Up, Derailed, Marley & Me and He's Just Not That Into You. What are you looking for right now, for yourself, when it comes to film roles?
JA: "Well, I think I'm always looking for good work. You know, dramatic, comedic, whatever it is. Sometimes things come along at the perfect time and it's sort of fate. Other times, I just want to take some time off until something really wonderful comes along."

HB: We hear that directing, producing — and even singing — are on the horizon?
JA: "Yes, I like to stretch myself. And I can carry a tune."
[From Harper's Bazaar]
She really is going to try to sing for one of her next films – it's a project called The Goree Girls. Jennifer is set to produce and star in the film about "a 1940s-set musical centered around a group of incarcerated female country-and-western performers." There were some rumors that Gerard Butler was going to sign on to play someone in the film, like the band's promoter or something, but he's not listed on the pre-production credits yet. There's also a rumor that The Goree Girls will be Jennifer's Oscar stab – that she'll pull a Charlize Theron and ugly it up to play a women's prison inmate (who sings!). It could work, I guess. It's like the Charlize method mixed with a dash of Reese Witherspoon. Oscar! But only if Jennifer shanks someone with a toothbrush!
Here's the trailer for Love Happens

Love Happens Trailer – Watch more Movie Trailers
Thanks to CoverAwards for the Bazaar Australia cover. Other pictures are stills from Love Happens, which is out 9/18/09 in the US. Thanks to AllMoviePhoto