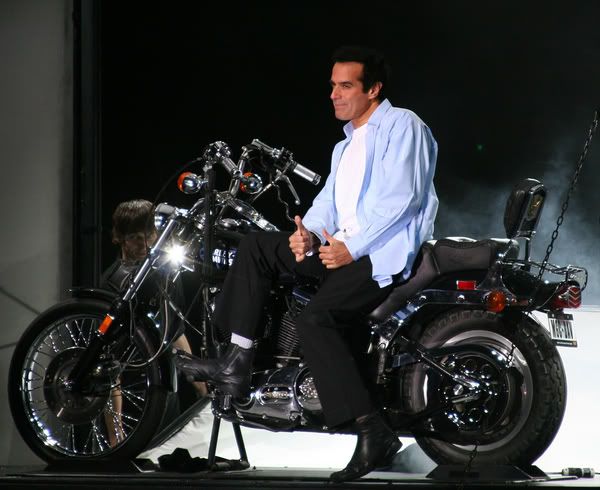 People were wondering why the FBI raided magician David Cooperfield's warehouse and seized his computer and camera after he was accused of raping a woman while in the Bahamas. It made sense that the FBI had jurisdiction because the crime is a federal issue since it happened outside the US and the alleged victim filed a complaint against Copperfield when she was back in the states.
The real reason the feds may have taken Copperfield's effects may have to do with the insidious nature of the alleged crime. TMZ reports that Copperfield lured women for sex through his magic act, pulling some backstage and asking them a series of questions to determine how vulnerable and willing they were. Like Akon but with more panache, Copperfield is said to have used promises of appearing in his magic act to get women to submit to the first phase in his elaborate seduction:
Sources now tell TMZ Copperfield designed part of his show around "a system for picking up women." During his show, David goes into the audience and chooses women to come on stage. We're told that if David likes a girl, he'll use code words with assistants like "mama" and "secrecy." The assistants mark the women on a map of the inside of the Hollywood Theater at MGM Grand. After the show, the women are brought backstage — and that's where the profiling begins.

The women are told that David may use them in his show when he comes to their hometown. They are then photographed with a digital camera, asked questions like, "What is your favorite men's cologne?" and "Where do you like to vacation?" We're told one of those vacation spots mentioned by staff is the Bahamas, where the accuser claims she was assaulted. Copperfield owns a cluster of islands in the Bahamas — which he bought for $50 million.

This may explain the FBI's interest in David's camera system and hard drive. If the accuser is a woman who was brought on stage, the FBI would be interested in a possible M.O.
[From TMZ.com]
Is David Copperfield a serial seducer that uses his semi-celebrity status and dimestore hypnosis to woo women? Does he get violent and aggressive when his intended targets don't submit to his advances?
Right now it sounds like a he said/she said case, and while I usually side with the victim we may never know what really happened since she didn't get the necessary evidence against him by going to the hospital after she said she was attacked. Unless more women come out and say that Copperfield forced himself on them too, there may not be enough of a case against him. He could have done it, he might be innocent and something else happened between them, and/or he could be just a creep and not a rapist. Even if he is declared innocent he'll always have the stigma of a rape accusation hanging over his head, especially if he tried to get women to date him by using his magic act. How lame!
David Copperfield is shown performing on stage in Hollywood with his penis extension motorcycle on 2/2/07. Thanks to PRPhotos.