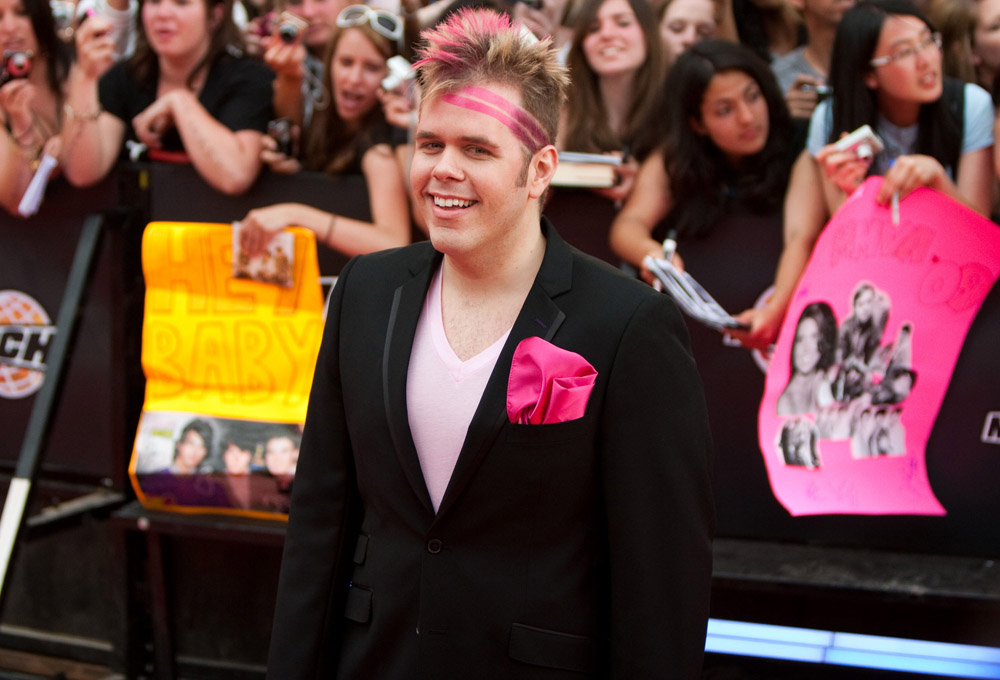 It's obviously not eyebrow raising for me to tell you that Perez Hilton lied about something. If Perez said the sky was clear, you should assume donkeys and medium-sized cattle are falling out of large, thunderous clouds as we speak. If Perez said fish don't need air to breathe, you should immediately round up a team of friends and the largest nets you can find, because those fish are drowning! It's got to be a lie; I don't care how logical whatever it is he says. It's a lie.
Last week Perez went after Demi Moore's 15-year-old daughter Tallulah for wearing some incredibly inappropriate and revealing outfits in public. At the time I took Perez's side, but ONLY because Demi Tweeted over and over again that he was a pedophile and a child pornographer, which was clearly not the case when you look at the pictures. So not only were her statements ludicrous, but she let Tallulah dress that way. And I said it then and I'll repeat it now –I'd rather support a pack of rabid wild gophers than Perez, and would gladly have been on Demi's side if I could have found any excuse to be.
Well it seems Perez (and his lies) have given a great reason to officially join Demi's side (though not the part about calling him a pedophile). A few weeks ago he filmed an episode of Tyra Banks' show and promised not to make fun of celeb's minor kids for six months. Which he then broke a few weeks later.
Did Tyra Banks make a deal with the Devil? The model hosts controversial celebrity blogger Perez Hilton on "The Tyra Show" season premiere Tuesday and asks him not to bad-mouth celebrities under the age of 18 for six months.

"When you're a kid, especially the kid of a celebrity, I don't feel that they should be put in the public in a way to be made fun of. I feel they should be protected," Tyra says on the show, which airs on the CW at 4 p.m. She asks Perez to comply for a year, and he reasons that they should compromise on six months.

In return, Tyra invites Hilton to appear on one episode of "America's Next Top Model" as a guest judge. Ironically, the episode — which was shot on Aug. 18 — goes live just a few days after Perez caught major heat from Demi Moore for doing exactly what he promised Tyra he wouldn't: targeting minors.

A few weeks ago, Perez linked pictures of Demi' s 15-year-old daughter Tallulah partying on his Twitter page an unflattering shot in which she's wearing a low-cut top (with closed eyes) while out partying in L.A. Mama Moore ain't amused. "Clearly Perez Hilton isn't taking violating child pornography laws very seriously," Demi tweeted of the photos on Thursday. "He might not but there are a lot of people who do."

"Expect a letter from my attorney, kitten" the controversial blogger shot back, accusing the actress of "defaming" him. Kirstie Alley chimed in defense of her friend: "I don't condone men who ridicule and sexually degrade minors!" Not surprisingly, Perez says he will be taking legal action towards Alley and anyone else who "slanders" him. Hmm, we'll see how tough he is when Bruce Willis hears about this.
[From the Daily News]
Once again I'm left hating Perez more than ever. For another thing, I really can't stand Tyra Banks. But compared to Perez, she's coming off as all class. And that's a very responsible request for her to make. And he's a douche for needing to attack celeb's kids soooooooooooo badly that he actually tries to negotiate with her over it. But obviously he just wanted to get his way and be on ANTM. Hopefully they haven't filmed yet and won't let him be a part of it.
And the Post is right – as scary as Demi and Tyra and Kirstie Alley ALL are, I would be seriously, seriously afraid of Bruce Willis if I were Perez Hilton.
Here's Perez in June at the Much Music Awards and hosting Summerbash in Chicago. Images thanks to WENN.com .