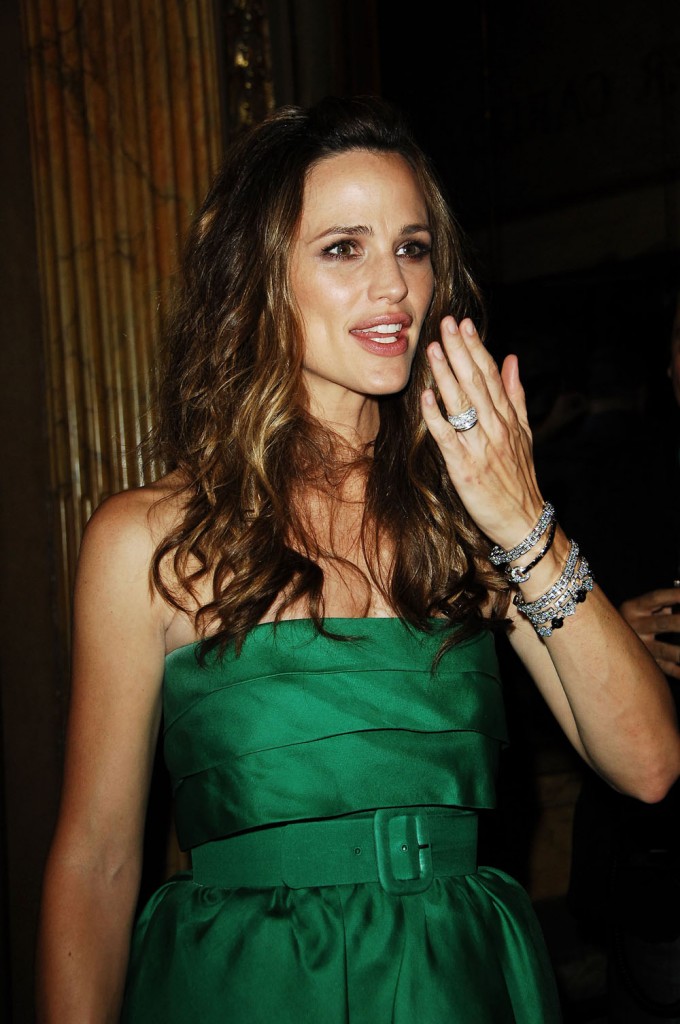 The Invention of Lying premiered at the Toronto Film Festival last night, and its three biggest stars showed up to walk the red carpet – Ricky Gervais (who not only stars, he's co-writer and co-director), Jennifer Garner and… Rob Lowe. I'm not a huge Rob Lowe person, so I tend to think Rob showed up to promote his smaller, supporting part in the film just because he really didn't have anything else to do. The film is about a guy (Gervais) who lives in a world where no one ever lies, so the guy invents lying for his own gain. The film also stars Tina Fey, Jason Bateman, Jonah Hill and a slew of other comedians and character actors. It actually looks really good.
Jennifer Garner walked the red carpet for the premiere in a rather stunning, strapless, tiered, green cocktail dress. I can't find who designed this dress to save my life – to my eye, it looks like Prada, or maybe Oscar de la Renta. Jennifer accessorized with beige and gold platform heels that kind of wash out her legs. But I love her hair when she actually puts some effort into it. She looks really cute – even stunning – when she tries.
My favorite from the red carpet was Ricky Gervais though. I love this man. I love the silly faces he's making on the red carpet. I like that his version of dressing up is a nice pair of pants, a nice sweater and no tie or jacket. He still looks awesome though!
At the press conference before the premiere, and on the red carpet, Jennifer and Ricky were acting out, of course. Jennifer told reporters that her favorite lie about herself (told by the tabloids) was "There was a lie, just recently, that I have had my lips done, I felt like, have you seen my mum, or my sisters?" Jennifer also gave the lie she'd like to spread around: "I saved a family of twelve by myself as they were burning in a car. I pulled them out and saved them all."
Rob, Ricky and Jennifer also discussed the Kanye incident, with Jennifer saying, "that's not honesty, that's just bad manners. You can choose at any time whether to be civil or not civil — what is the point of thinking it's cool to wear your honesty on your sleeve at the expense of everyone else?" Ricky praised Jennifer as inherently good, noting "Jen doesn't even swear. She says things like 'darn' and 'dang'. I asked her what her favourite swear word was, and she said 'rats'."
Ricky Gervais talked about the high-concept foundation for the film, saying "A world without lies actually wouldn't be a very good world…because it would be artless. There would be no white lies, no flattery — I mean, losers don't need to be told they're losers every day." In case you didn't figure it out, Ricky identifies with "losers" – which makes me wonder why he cast Jennifer Garner as his love interest…
Here's the trailer for 'The Invention of Lying' as well as the cast at the Toronto International Film Festival premiere last night. Images thanks to WENN.com .