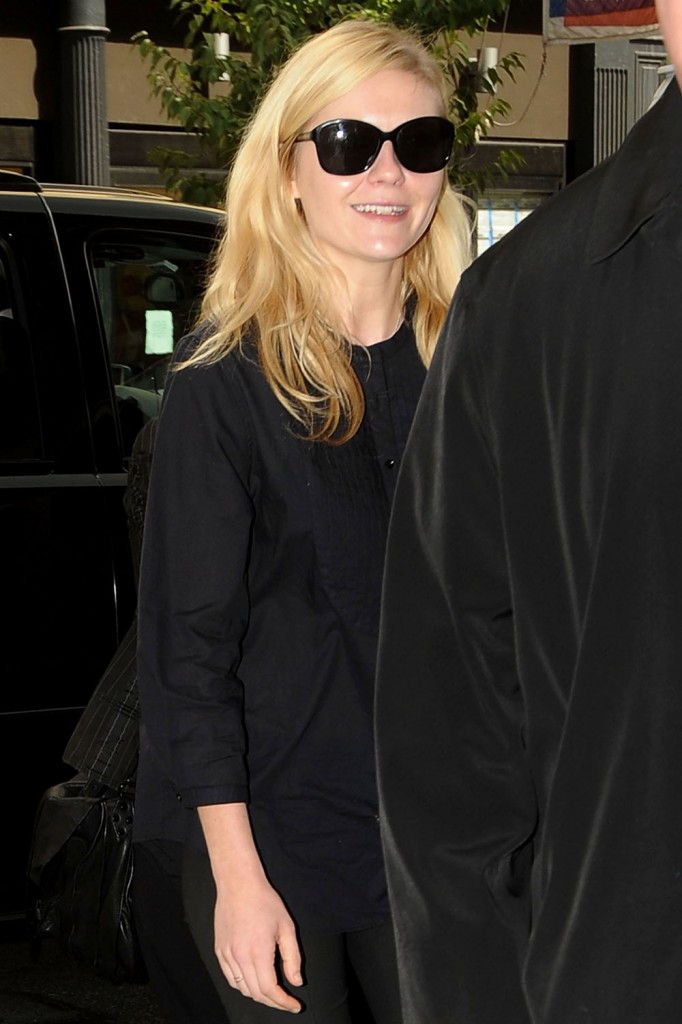 I've never found Kirsten Dunst very impressive. She's there and that's fine, but for the life of me I can't figure out why she's famous. She's not the worst actress ever but there's nothing noteworthy about her. Except her consistently messy appearance. Kirsten's never struck me as particularly bright or self-aware, and now there's a court record to confirm it. Yesterday she testified against the man who stole her purse from a hotel suite two years ago. The New York Post referred to her as "Kirsten Dunce" (snicker). She didn't have the slightest idea how to present herself in a court of law and came off as a complete airhead; giggling and interrupting herself and saying "like" a lot.
Maybe Spider-Man could have saved her — from herself. Actress Kirsten Dunst giggled her way through a half-hour on a Manhattan witness stand yesterday, apparently at sea when it comes to speaking in public without the help of a Hollywood script. Dunst, 27, who plays love interest Mary Jane in all three "Spider-Man" movies, was in court to do the kind of serious work usually left to her on-screen superhero sweetie — nailing a thief, in this case the Brooklyn car mechanic accused of swiping her handbag in 2007.

But the ditzy Dunst virtually fluttered into court in a black blouse, tight black pants and black stilettos, flipping her long blond hair and giving the judge a perky "Hi, how ya doin'?" even before sitting down in the witness chair.

Then — in oddly cheerful testimony punctuated by girlish chirps of "I mean," and "OK," and "Like," and "Yeah!" — the actress de scribed how, two years ago, she returned to her swanky penthouse suite at the Soho Grand to find her $2,000 Balenciaga purse had vanished from where she'd left it on a bed.

"We realized — yeah! — somebody had taken it," the ac tress told jurors, de scribing the moment she and British co- star Simon Pegg re turned to the pent house to find their "things" had vanished. The $3,500-a-night suite was being used as a green room as they filmed scenes for "How to Lose Friends & Alienate People" in the hotel lobby and on West Broadway.

"Like, it could have been five times, I can't really remember," the star laughed when prosecutor Patricia Stolfi asked how many times she'd been in and out of the penthouse that night. Asked the approximate time, she giggled again, "The sun was setting. I mean rising! Excuse me!"

For all her giggles, Dunst did what prosecutors needed — tell jurors that [defendant] Jimenez did not have permission or authority to either enter her suite or possess her handbag.
[From the New York Post]
I would totally be cheerful and too excited to remember the difference between a setting and rising sun if I were testifying against a thief. Talk about flighty. I actually think it's good Kirsten's an actress. If her career depending on coming up with words on her own and putting them together in a coherent manner, she might not get far. She's good at mastering the flip of the hair and confused giggle. And being rescued by spiders and whatnot. The Post noted that Dunst did get her purse back – minus the $2,000. The robber left it in a dumpster in Brooklyn. Clearly no lasting psychological harm was done, and I'm assuming it's safe to say he'll be convicted. All thanks to Kirsten's edge-of-your-seat testimony.
Here's Kirsten leaving New York City Supreme Court after testifying yesterday. Images thanks to WENN.com .