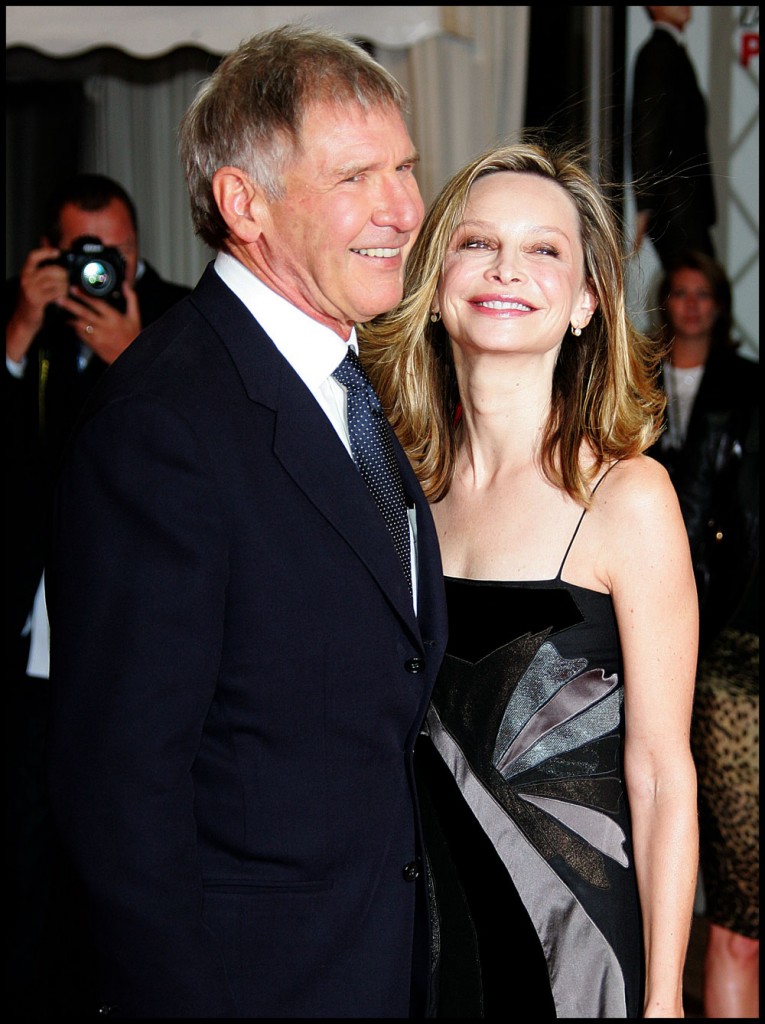 Hello! Magazine has a new interview with Harrison Ford, 67, and he comes across as very open and honest and like a great guy. I don't remember the last time I saw an interview with Ford, so I watched a couple on YouTube, and he does seem like a normal, nice guy who also happens to be a movie star.
In Hello!, Ford talks about the pitfalls of fame and enthuses about his love of flying and riding motorcycles. The interviewer from Hello! points out that Ford is an environmental activist and that he drives a Prius. When asked if he's planning a green wedding to fiance Calista Flockhart, he basically answers "of course." Ford doesn't say much about his commitment to environmental causes, but Hello! points out that he's doing promotional work for the Team Earth project, which encourages people to live a more sustainable lifestyle. In that same interview, Ford admits to owning more motorcycles that he can count on both hands and Hello! mentions that Ford, a pilot, has five airplanes and a helicopter and owns three residences. Now how is owning six aircraft and three homes compatible with being conscious of your environmental impact? I'll give the guy a break, though, as he's donated a lot of money and time to environmental causes over the years.
Ford also speaks candidly about his love for fiance Calista, and you can tell that she means a lot to him. There's no word as to when they plan to get married.
When it comes to work travel [Ford] often opts to take either a helicopter or an airplane which he pilots himself…

Every year, he divides his time between his Manhattan loft, his ranch in Wyoming and his home in Montecito…

On yearning for privacy
Ford: "It's horrible to live with people looking at your nonstop. I'll never get used to it. My fantasy would be to be invisible."

On his love of flying
Ford: "I'm not just an actor. I'm also a pilot. I really enjoy the mix of freedom and responsibility that flying requires. I'm not seeking out the adrenaline as much as the pleasure of calculating risk and knowing where the dangers are."

On his love for Calista
Ford: "I was 60 when I fell in love with Calista. What surprised me most was that I was still capable of establishing a long-lasting relationship, making a serious commitment. With my children, in my private life or my work, I try to learn from my mistakes and evolve."

On a green wedding
Ford: "I haven't thought about 'greening my wedding.' My wedding was always going to be green."
[From Hello! Magazine, print edition, October 5, 2009]
Ford confirmed earlier this month that a fifth Indiana Jones movie is in the works. We heard earlier this summer that Ford's co-star Shia Labeouf said that filming had already begun on the fifth movie. Fox News has a new amusing editorial that asks if some action heroes are just too old to be convincing. The youngest guy they mention is Nicholas Cage, 45, and the oldest is Clint Eastwood, 79. Of Ford, 67, they say "Shia LaBeouf will be back [in Indiana Jones 5] to do more of the heavy lifting, but it will still be hard to watch Ford huff and puff his way alongside his much younger co-star." Ford doesn't see that as a problem, though, and told Hello! that he's still around because "I'm not a trend, so you can't replace me just like that."
Harrison Ford is shown with President Jagdeo of Guyana to "Promote Forest Protection and the Announcement of Team Earth, a Global Sustainability Movement in Greeley Square Park" in NY City. Credit: L. Gallo/WENN.com. He's also shown with Calista at the Deauville Film Festival on 9/13/09.