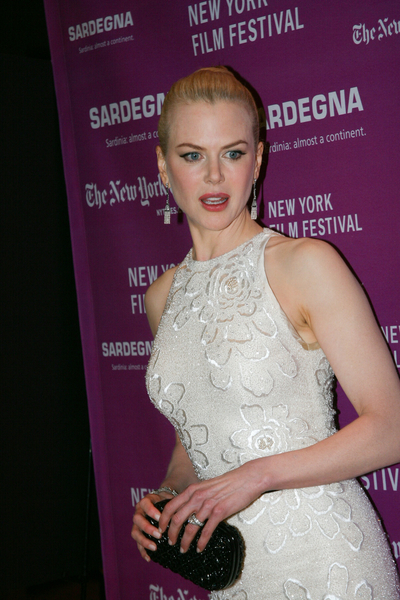 Nicole Kidman tends to come off as pretty classy (if at times a bit bland) in most of her interviews. Post-divorce, Tom Cruise has come across as an elfin control freak who randomly accuses people of being glib (which is a pretty good way to describe Cruise in general) and promoting pseudo-sciences (again, a pretty good way to describe some Cruise does in general). Nicole hasn't trashed Tom, but when questions of her marriage to him arise, she manages to make it clear that he squashed her personality. I can't really explain how, but Nicole seems to still do this in a way that isn't unseemly. She gave an interview to USA Today in which she talks about how she lost her identity, and how she's worked on getting it back.
Head's up, Katie Holmes. In a new interview with USA Today, Nicole Kidman said she lost her self-identity during her nearly 10-year marriage to Tom Cruise because of the couple's constant traveling. "Tom and I, we moved and moved and moved. Your sense of where do I come from becomes less and less relevant," said Kidman, 40, who split from Cruise, 45, in 2001 and shares custody of their adopted children Isabella, 14, and Connor, 12.

"A lot of my life, particularly when I was working so much, it was about trying to fill in the gaps," she added. "Now there's much more reason to exist in the world without my identity needing to be through work." She said her life is finally making sense again. "I have a new niece, I have a new marriage, we just bought an acreage in Tennessee, which we're really happy to build a house on and spend some time doing that," she said. "I'm just not willing to give up my life with my man anymore."

Kidman says she and Urban, 40, are "inseparable" (she even plans to hit the road with him on his world tour). "I also like seeing him do what he does," she said. "He can really play, and he can really sing. I'll vouch for it." Kidman said she isn't as adamant about working so prolifically, either. As for her recent string of box office duds (The Invasion, anyone?), she said she has no regrets. "You always strive to make a good movie," she said. "Sometimes it works, sometimes it doesn't. You step into something with the best of intentions and you hope. I think that kind of approach to a career, and a life, is the healthiest way to be."
[From Us Weekly]
I find it really annoying when articles always call her Connor and Isabella her "adopted children" instead of just her children. But that's neither here nor there. Nicole has been making the publicity rounds lately, and was on the cover of Vanity Fair last month with a long interview. She seems pretty demure and low-key, but also very honest. She talked about Keith Urban's struggle with drug and alcohol addiction. Before I always thought she came off as sort of an "ice princess" who wouldn't talk about anything in her life that was less-than-perfect. But she talked about loving someone who has issues, and how they work on it and keep their relationship intact. Nicole said something in the Vanity Fair piece that I thought was remarkably profound. "I kept looking for happiness, and then I realized: This is it. It's a moment, and it comes, and it goes, and it'll come back again." It sounds like she has an optimistic yet realistic outlook.
Picture note by Jaybird: Here's Nicole at the Margot At The Wedding' Movie Screening at the New York Film Festival on October 7th. Images thanks to PR Photos.