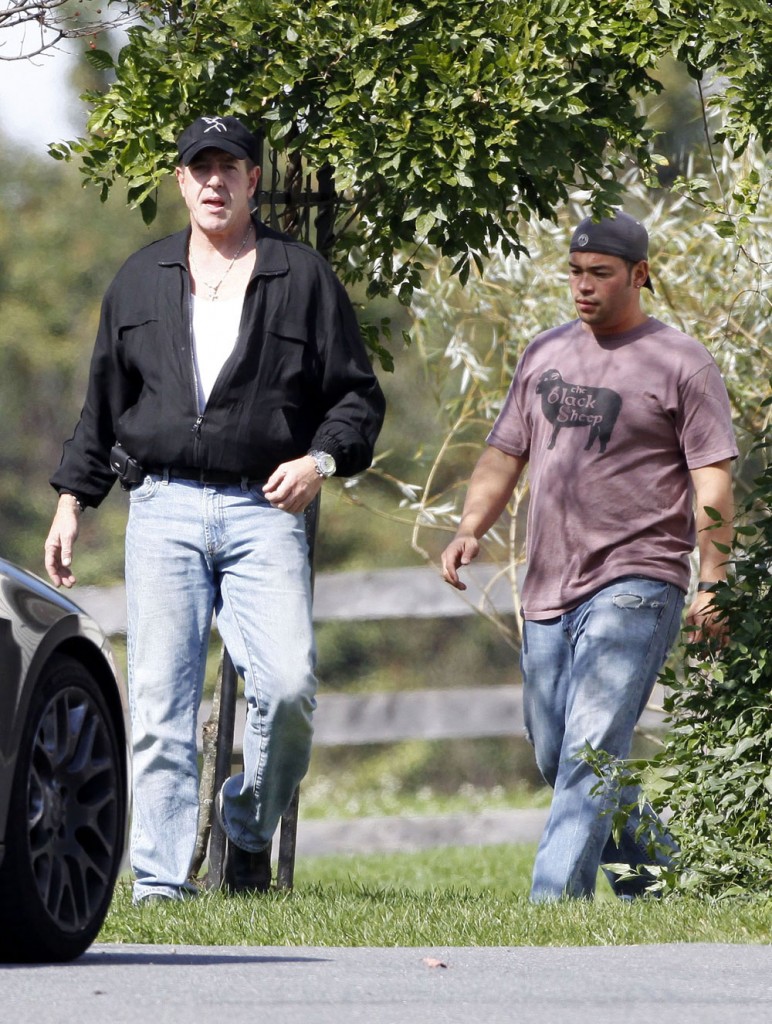 Jon Gosselin capped off his media blitz last week with two very long head-scratching interviews with AOL websites PopEater and Parent Dish. We've been limiting our Gosselin coverage where possible, and I asked MSat to cover some Gosselin news last Friday because it was worth repeating but I just couldn't bring myself to write much more about this. I have this compulsion to keep up with every little detail of a story and when it comes to the Gosselins there's just way too much to keep track of lately. Plus it can be incredibly frustrating to pay too much attention to those people, especially Jon.
Enter the epically frustrating and unintentionally hilarious quotes from daddy douche himself. Jon, who is accused of pilfering $230,000 from his family's joint account and leaving his estranged wife with just $1,000 to pay the bills, defends himself against Kate's accusations of stealing money "If I was going to steal $230,000, I would have just stolen $2 million," talks about how he's hounded by the paparazzi, calling himself "the most photographed person on the planet," and goes on about his newfound interest in Judiasm following his relationship with a Jewish woman, Hailey Glassman. He pretty much sounds like an idiot the entire time. There are some wise observations in his flurry of words, though, particularly the fact that he's overexposed. Now I wonder whose fault that is. Here are some choice quotes. If you have the time, interest and the high level of tolerance required to read through the interviews, you can see them on PopEater and Parentdish.
Claims he's taken "the high road"
I feel like I'm nomadic. I'm in New York, Reading [Pennsylvania], L.A. I have an apartment in New York, on the West Side. I could sleep in my apartment on my 8,000-square-foot property, but that would make Kate uncomfortable. I take the high road.

I never said anything demeaning about Kate, just that once on Good Morning America about a month ago or so, I lose track of time. I said I despised her; maybe I despised the things she does. That was the first interview in 4 ½ years by myself. -Parentdish

On how Kate is a puppet of TLC
She goes on Regis and The View and has no idea of women's rights. She doesn't even vote, which is disgusting. How could she go on a talk show if she doesn't know what's going on in the world? She's fed lines from TLC. I'm not bashing her — it's wake up and get on board, take this out of the court and let's settle it. – Parentdish

On how he's famous and hounded by paparazzi
There are 65 paparazzi following me in Reading so I don't stay there. Our Nielsons [ratings] are 11 million. That's like the population of Pennsylvania…

Every talk show wants us. I am the most photographed person the planet. Kate is the fifth most popular person in the world this year, and I'm the second most popular. Michael Jackson is the first. I'm like, 'Wake up, Kate.' -Parentdish

On how he didn't steal the money
The cool thing was me and Kate never relied on money, we relied on each other, and now it's like money money money. I don't even care about the money. If I was going to steal $230,000, I would have just stolen $2 million. It's all so stupid. -Popeater

On his newfound interest in Judiasm
Everyone in my life is Jewish now, my attorney. I love it. I'm now half Jewish and half Korean. The family values are great…

I have a therapist. But hanging around Jewish people you don't need to talk to anyone else. My parents and grandparents are divorced and I want to break the pattern. I have Hailey and Mark Heller, my attorney, my therapist. They're all Jewish. I watch them and I confide in them, especially Hailey. She is my best friend. She'll tell me if I do something wrong. God has put these people in my life for a reason. My inner circle is Jewish. I only care what they think. I never talked about anything until therapy. Kate never wanted to go to marriage counseling. The thing in therapy is about teaching me how to talk to my kids. -Parentdish

On if he's going to do that Divorced Dad's show – no, unless it's a "documentary"
Absolutely never. I will never do a reality show again. If I do, it's a documentary on reality TV. I thought DDC was a good idea, but then I feel I have better things to do with my time than to do another show. DDC would take time from my kids. -Parentdish

On how he's writing a book
I started writing a book. My book says it all. It will teach fathers a lesson. -Parentdish

On how he's overexposed and Kate Major and Stephanie Santoro are liars
It gets to be ridiculous, like who are these people to say things about me when they don't know me, such as Kate Major and Stephanie [Santoro] — all of those people who are profiteering off of lies and my life. Kate Major makes about $110,000 off of her lies, Stephanie makes about $75,000-$100,000 off of her lies. They say anything and people buy it, but my word's not worth anything because I'm so overexposed. I can't defend myself, I can just prove that they're liars which I basically already have. I can't really do anything else except in the court of public opinion. I always think of this whole thing like high school. It's very cliquey and really gossipy. One girl says something to another, then it winds up here … one says something about a relationship or breakup, then it's everywhere. It's totally like high school just on a global scale. – Popeater

On his "bad decisions"
Meeting Kate Major [former reporter for Star magazine] and Stephanie [Santoro], the nanny. Those were two things. – Parentdish
[From Popeater and Parentdish where noted]
I don't know where to begin, and my brain switched off several minutes ago, but I can say that I arranged the quotes above, and you can see where Jon contradicts himself, sometimes in the same interview. We've been inundated with news about these idiots for six months and now that their divorce has reached a fever pitch they're both dragging out all the details in public. Jon's media appearances have only made him seem like more of complete ass than he did before. Many of you have been commenting that you're "team kids," and I would agree but say I'm leaning heavily in Kate's direction – if only because Jon keeps pushing me there by continuing to talk.
Just as I was about to publish this story I noticed that there are new photos of Jon Gosselin hanging out with Michael Lohan in Reading on Sunday. Nice to know their bromance hasn't suffered through Jon's difficult divorce. *eyeroll*
Credit: INFPhoto.com