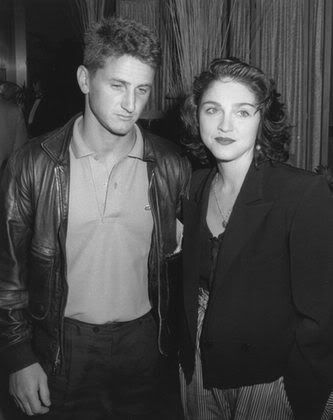 It seems that I'm not the only one who has hazy memories of the eighties. Of course, that may be because for me the eighties were about pre-school and toilet training. Sean Penn is just trying to block out his marriage and divorce.
Sean was married to Madonna for four years after they wed in 1985, when she was absolutely huge. She dedicated her True Blue album to him, the "coolest guy in the universe." According to Sean though, he wasn't cool at all. He was vain and drunk.
He says: "She was a phenomenon, but nothing could have told anybody what would happen next. I describe that marriage as loud. That's how I remember it. I don't recall having a single conversation in four years of marriage.

"I've talked to her a few times since, and there's a whole person there. I just didn't know it. I was just living in my own head. Who was it that said: 'Men are vain, particularly young men'? That was me, and I liked to drink a lot.

"I'm not saying it was meaningless. I've carried over the lessons to things more applicable now."
I'm glad that the marriage had meaning, particularly given that Sean spent time in jail during it, after assaulting an invasive photographer. They were the Brangelina of the times, and dubbed the "Poison Penns". Don't you remember?
While looking up the dates of the marriage I stumbled across this gem on Wikipedia. When Sean was in prison during his marriage to Madonna for assaulting a paparazzo, he was asked for an autograph by another inmate. He wrote "Dear Richard, it is impossible to be incarcerated and not feel a kinship with your fellow inmates. Well Richard I have done the impossible I feel absolutely no kinship with you. Sean Penn." Richard responded by telling Sean to "Stay in touch and hit them again."
Picture note by Celebitchy: Header image is of Sean Penn and Madonna in 1988, thanks to IMDB. Stills from Shanghai Surprise thanks to DVD Active and Blogs.Tampabay.com. Other images from Schlampfie.de.