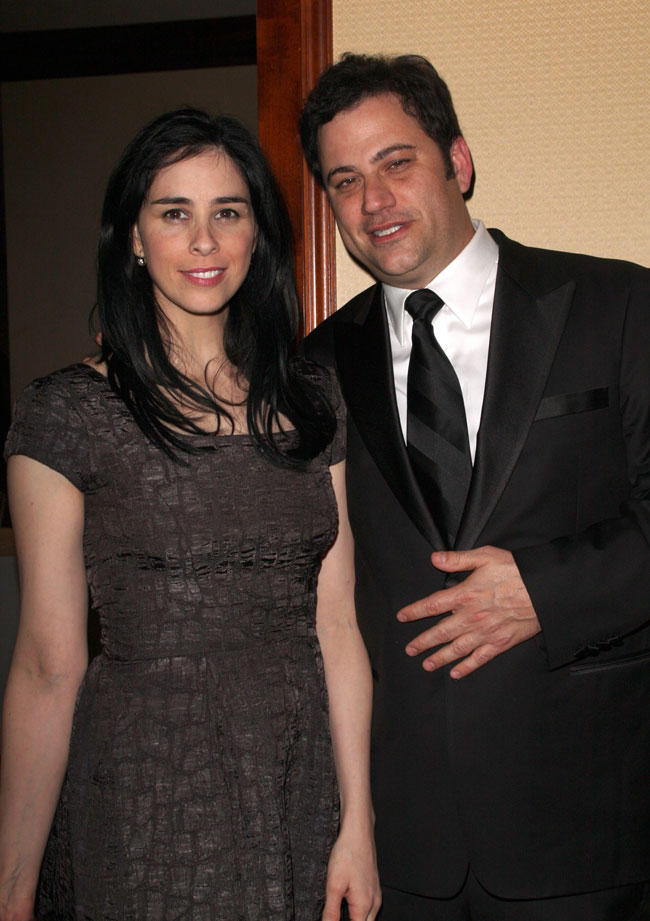 Earlier this week we told you about Jimmy Kimmel's new girlfriend, a lead writer on his show named Molly McNearney. We reported rumors as far back as last year that the two were hooking up, seemingly in between Jimmy's on-and-off relationship with comedian Sarah Silverman. Now there are new reports that Kimmel may have been seeing Molly while he was still with Sarah, which was the reason for their breakup. Oops. This week's National Enquirer reports that Silverman is complaining that Kimmel cheated on her and promoted Molly as a result. "After Sarah broke up with Jimmy, pals say she was shocked to learn he'd been having an affair with writer's assistant Molly, and promoted her [to co-head writer] while he and Sarah were still dating!"
Also, not everyone on Kimmel's late night show is pleased about the couple – especially Molly's ex-boyfriend, who used to work on the show too until Jimmy got rid of him. Sources report it was a move made specifically so he could pursue Molly.
Jimmy Kimmel's dating scandal is growing.

The late-night host started romancing his new girlfriend, who is one of his employees, after getting rid of her boyfriend, who also worked on Jimmy Kimmel Live, RadarOnline.com has learned exclusively.

And before he ditched Molly McNearney's boyfriend, Jimmy and then-girlfriend Sarah Silverman used to double date with the couple, a source close to the situation told RadarOnline.com exclusively.

While David Letterman's own dating-an-employee scandal has resulted in an extortion charge against one man, Kimmel has a potentially explosive situation on his hands that has alienated members of his staff and calls into question the fairness to other employees of the boss dating a staffer.

News recently "leaked" from Kimmel's show that he's dating Molly McNearney. RadarOnline.com then broke the news that several staffers were extremely upset, worried about favoritism and one even blamed being fired on the situation.

Now we've learned that McNearney, formerly an assistant writer on the show, was dating a man who was also an assistant writer in a relationship that started a few years ago. The two were very serious about each other.

But, according to a source close to the situation, Jimmy had been attracted to Molly for quite some time, and moved her boyfriend off his show, in a maneuver that made it easier for him to connect with Molly.

Jimmy got the boyfriend a job writing for another show, but his actions stunned the man.

The source told RadarOnline.com: "The guy was totally shocked because he had become good friends with Jimmy and had frequented Kimmel's NFL Sunday parties for his staff and friends at his Los Angeles home.

"Jimmy acted like a total snake no matter what way he tries to spin it – just like Letterman he abused his power by promoting Molly and everyone knows it."
Radar also has an exclusive interview with a disgruntled former staff member from the show who claims that Jimmy and Molly's workplace romance wasn't much of a secret and was a source of frustration for the rest of the writing team. This former writer says Molly was given preferential treatment, was promoted unfairly and was "nasty" to other writers. Ugh. Sounds like a fun place to work. It's too bad that people can't seem to behave like professionals anymore. People date other people from work all the time, and rarely does it seem to work out well. I don't think this story is going away anytime soon. Wonder what Sarah Silverman thinks of all this?
Jimmy and Sarah are shown on 2/7/09. WENN.com/FayesVision