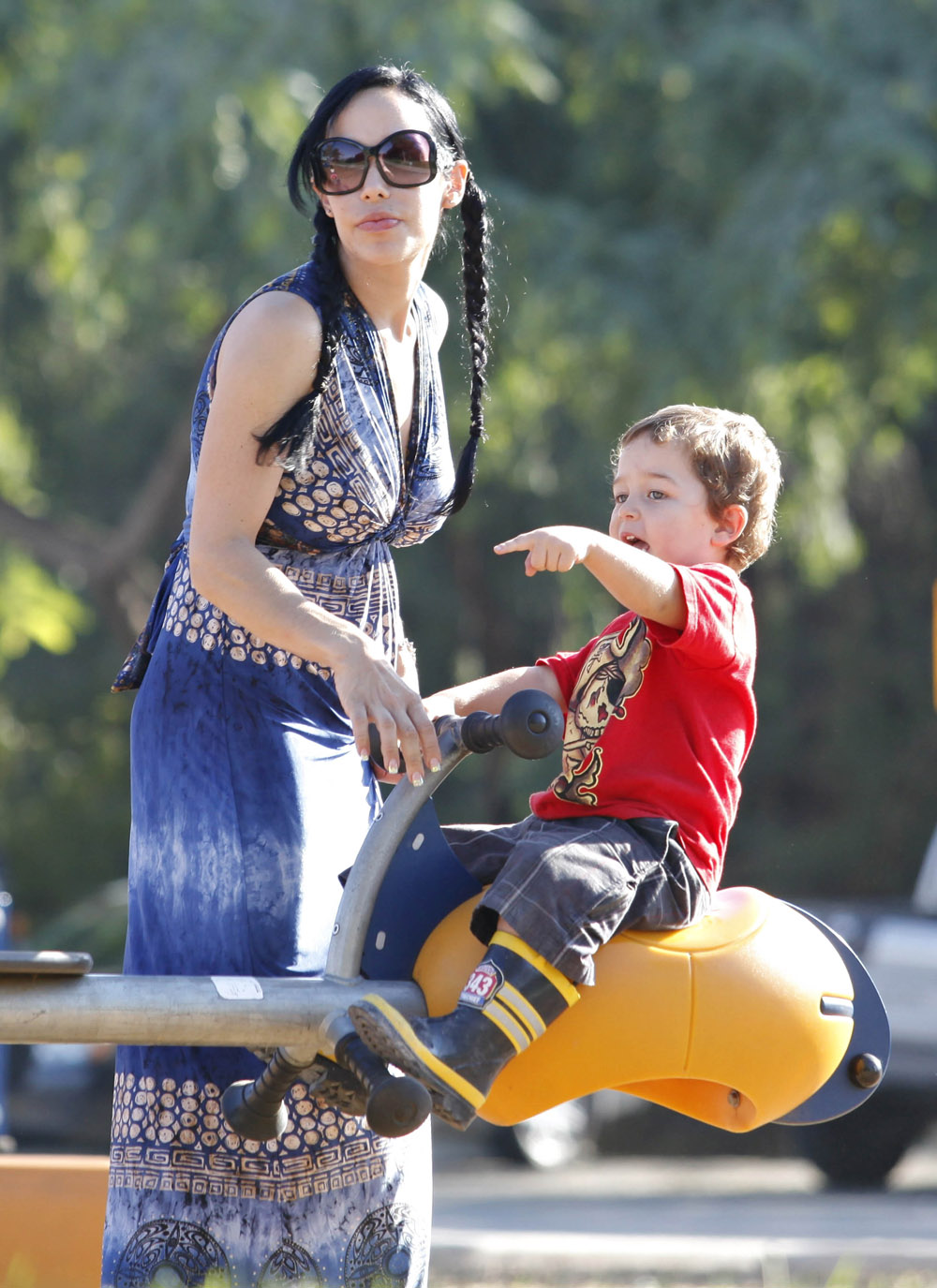 There are few single men out there more repulsive than Jon Gosselin. At least to me. Everything about him, from his personality to his behavior to his appearance, makes me want to crawl inside myself and weep for the state of humanity. Or at least for the state of dating. And though his soon-to-be ex-wife Kate may very well strike most men as the female equivalent in terms of undesirable, there's a close number two out there, and she's just as eager for attention: Octomom. Yes, Nadya Suleman is back in the news, but luckily not for popping out any more kids. Naw, she just had to let Radar know that she think Jon Gosselin is a total hottie. I'll excuse you while you rush to the bathroom.
In an exclusive interview Nadya Suleman told RadarOnline.com that she thinks Jon Gosselin is quite the catch! "I kind of have a crush on Jon Gosselin," Octo-Mom exclusively told RadarOnline.com. Going one step further, Nadya even said: "I think he's hot!"

As for dating, Nadya doesn't recommend it to Kate. "I don't think any single mother of any amount of kids should start dating," Nayda said. Maybe realizing that she didn't want to be alone forever, she will relent on the no-dating rule "when the kids are older."

Nadya hasn't shied away from the public eye, but she did have words of support for Kate in her very messy and public divorce: "I feel for her. I wish everyone would leave her alone. I'm sure she trusts herself and trusts that she's strong enough to handle it."

As RadarOnline.com exclusively reported, Jon & Kate Plus 8 will end in November and Nadya, despite rumors of her own reality show, said she thinks that's the best situation for the Gosselin brood. "I think it's exploitative," she opined. "I don't care what the dollar amount would be, it's not worth it, it's not healthy for the kids, it's not beneficial for them."
[From Radar]
The best part is that if you watch the actual video on Radar's site, Nadya claims not to know the Gosselins are getting divorced. "They're divorced? Really?" In this incredulous-with-a-hint-of-possibility tone. She also says she "thinks he's hot" – and the way she pronounces hot is sort of lecherous and creepy. Maybe that's just because it's Octomom saying it, but I didn't need to hear it. Then Radar's people ask Nadya what she thinks about Jon dating a 22-year-old. Hello, she already said she didn't even know he was getting divorced, she's probably not up on the details of his love life! But again, it's followed with, "He's dating!? Really?" from Nadya, barely suppressing her excitement. You can practically see the dollar signs in her eyes.
Then the Radar guy asks, "Why do you think women are so attracted to Jon?" Nadya snickers then responds, "I said he's hot! What are you talking about? He looks cute in purple too…" I know Nadya's a busy woman, what with the bazillion kids and all, but I think she might want to clear her schedule for an eye doctor's appointment. I'd recommend a shrink (for a variety of reasons, Jon Gosselin just being one of them) but that's a longer-term commitment than she'd be willing to make.
Strangely, I can't think of any pair that would make a more perfect reality TV couple. They're both fame and money hungry. She thinks he's cute. He has sort of… strange taste. I don't want to call his chicks unattractive, I'll just say that – to me – they're not conventionally attractive. And I'm sure Jon would do great with another 14 kids. Note the sarcasm. Anyway, I bet you anything we see them grabbing dinner together ("as friends!") in the next six months.
Here's Nadya at the park yesterday with some of her kids. Images thanks to Fame Pictures .