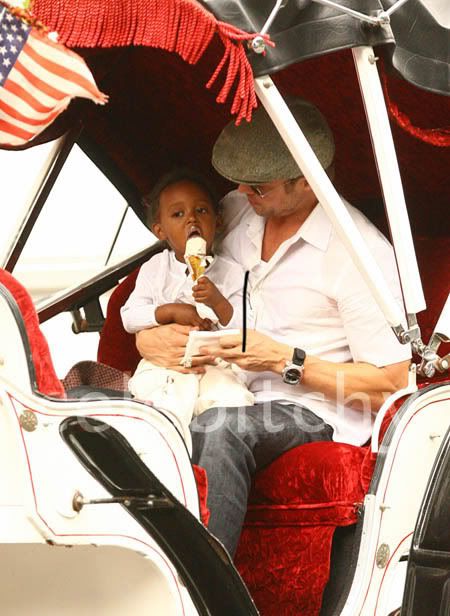 InTouch has a nearly five minute video interview with Angelina Jolie's adopted daughter Zahara's grandmother, Mentewab Dawit Lebisoin, in Ethiopia. (The video is shown below.) During the interview Lebisoin's voice is quiet and her mood is somber, she seems sad and deeply affected by the decision to give Zahara up for adoption. She speaks softly through an interpretor, saying that her daughter, Zahara's mother, was alive when Zahara was given up for adoption and that she never claimed she was dead and clearly told the adoption agency that Zahara's mother ran away. Zahara's mother left her, Lebisoin says, because she was poor and unable to care for the baby. Although she doesn't mention it in the interview shown, Zahara's mother was also said to have been the victim of rape, which resulted in the pregnancy.
Lebisoin shows a photo on a laptop of her grinning daughter holding a large picture of Zahara as a baby in a carrier with Angelina Jolie. Zahara's grandmother says she never met Angelina and that Angelina never came to see any of Zahara's extended family when the journalist asks her about it. She says that journalists came to see her after Zahara was adopted, though.
At the end of the tape the reporter asks Lebisoin if she has ever received a letter or any correspondence from Angelina and it looks like she nods her head while she's responding, but that's when the tape cuts off. It seems like In Touch wants us to buy the magazine to see what she said and if she has received any word from Angelina.
There was speculation that Zahara's mother would half-heartedly try to ask for custody of the toddler, who will turn three in January. The Jolie-Pitts have squashed all of those rumors, and say that Zahara's adoption is "legal and irreversible."
Lebision's statement that her daughter is alive and that she never claimed that she was deceased contradicts earlier reports that have her bringing three different relatives to court to testify that her daughter was dead in order to secure Zahara's adoption. In Touch reports that the adoption agency is now asking for a police investigation to see if Lebision is telling the truth.
Here's the video, thanks to InTouch:

Zahara is shown eating an ice cream while going on a horse and carriage ride in NY with Brad Pitt on 8/29/07, thanks to Splash News.