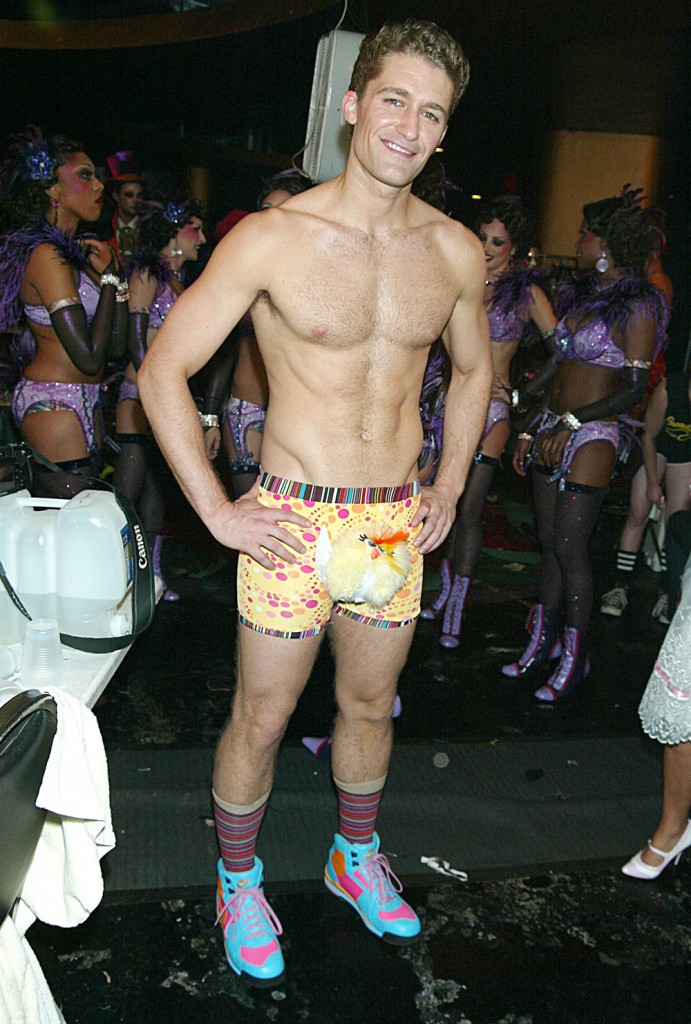 This week's Star has a profile of Matthew Morrison, who plays geeky but hunky Glee coach Will Schuester on Fox's "Glee." I love "Glee" and look forward to it every week. Morrison's dreamy looks and infectious enthusiasm add to the appeal of a very solid and entertaining show. Now that "Glee" is a certified fan favorite, many outlets are focusing on Morrison, 30, who got his big break in the Broadway production of Hairspray. Radar Online has video of Matt taking it off while wearing a comically enhanced thong in a 2008 Broadway charity event, and Star has an interview with Morrison's former drama teacher. His old teacher says Morrison is a great guy who recently performed at a school charity event. According to this guy, Morrison has a long distance girlfriend in Hawaii who he's been with for a over a year, judging by the timeline given.
Matthew Morrison didn't have to look far for inspiration when he landed the role of earnest and determined teacher Will Schuester on Glee, Fox's breakout new series. The handsome actor simply channeled the mentor who honed his considerable talents – and set him on his path to showbiz stardom!

"He's the motivator," Matthew, 30, says of Ralph Opacic, founder and executive director of his alma mater, Orange County High School of the Arts. "Always optimistic. Never quitting." And being the basis for Matthew's character is an honor Ralph doesn't take lightly. "I'm so proud of him," Ralph tells Star in an exclusive interview…

After graduating from OCHSA in 1997, Matthew headed east and attended NYU for two years before landing a role in the Broadway production of Footloose. In late 2000, he took a break from musical theater to become a member of the boy band LMNT (pronounced "element") A year later, they performed on a float during the annual Macy's Thanksgiving Day Parade in NYC – but Matthew had had all he could take of the prefab foursome, and he left the group shortly after. "God, it was so embarassing," he says today.

Matthew's split paved the way for his starmaking vehicle on Broadway in 2002, when he landed the role of hunk Link Larkin in Hairspray. It's been a wild ride since then, with an extended run on the daytime soap As the World Turns in 2006, and a celebrated turn back on Broadway two years later in South Pacific. Matthew was still with the classic musical when he landed his role on Glee.

He now lives in L.A. and see his Hawaii-based girlfriend whenever he has the chance. "They met while he was in South Pacific, and they're crazy about each other," Opacic tells Star. "Matthew and I are still really close. In fact, he performed at our annual OCHSA fund-raiser in March. He's very supportive of the school and is always eager to give back. That's just the type of wonderful guy he is!"
[From Star Magazine, print edition, November 2, 2009]
Very minor Glee spoiler below
The best part of this story is of course the shirtless pics I was able to find from Morrison's June, 2008 stint on Broadway Bares. The guy is ripped. This week I was fantasizing about seeing him without his shirt while watching him do "Bust a Move," so these photos are a very nice way for me to head into the weekend. Before he performed he started unbuttoning his dress shirt and I was momentarily fooled into thinking we'd get a glimpse, but he had on a t-shirt underneath. I know Glee is a family show and all, but it wouldn't hurt to include a shirtless scene with Morrison. There's got to be some flimsy excuse to have the guy strip down. Why didn't he take off his shirt this week when he got the slushee bath? Producers missed a real opportunity there.
Here's the stripping video, thanks to Radar. The audio is really loud and scratchy so you may want to turn it down.

And here's Mr. Schuester doing "Bust a Move"

Photo credit: WENN.com.