Oceans 13 to be released July, 2007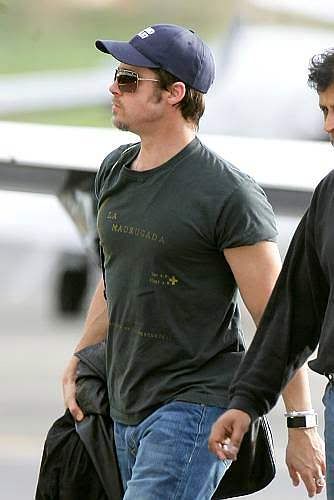 Even though it hasn't started shooting yet, Warner Brothers announced today that Oceans 13 is slated for release in July of next year. We thought that the only good things about Oceans 12 were the hot guys and the good music, which makes it hard to turn off the sound while you're watching. The plot was strung together loosely and we don't remember much about it except for some heists and the fact that the dialogue seemed too casual.
George Clooney, Brad Pitt, and Matt Damon will star again, with Ellen Barkin – yes Ellen Barkin – announced as Damon's love interest. That has to be a mistake. The woman is almost 52 years old! It must be a pity role after her recent unexpected divorce from mogul Ron Perelman.
E! Online's incomprehensible Ted Casablanca seems to suggest that Pitt and Clooney can't agree on when to start filming the latest excuse to get their hot asses together on screen. Pitt wants to start soon so that he will be available for the birth of his child, while Clooney needs a break so that he can continue sexing up Krista Allen until he's ready to dump her next month. Matt Damon is presumed to be diplomatic as usual, despite the upcoming birth of his first child.
Here is Pitt flying in Avignon, France on Friday. He's certainly taking plenty of flying lessons and may get Jolie's approval soon.
Written by Celebitchy

Posted in Brad Pitt, George Clooney, Matt Damon, Movies, Photos

- Zach Galifianakis is awesome [Buzzfeed]
- Prince at the Billboard Music Awards [D-Listed]
- Bieber's Billboard look [Go Fug Yourself]
- Married to Medicine recap [Reality Tea]
- Celebrity first marriages [Pajiba]
- The last Mad Men baffled a lot of people [Lainey]
- Karolina Kurkova's crazy hot dress [Moe Jackson]
- Jennifer Garner on set [Popsugar]
- Kitten vs. Lizard [CDAN]
- Doetzen Kroes' great butt [Celebslam]
- Shameless star Jeremy Allen White [OMG Blog]
- RIP Ray Manzarek [Bossip]