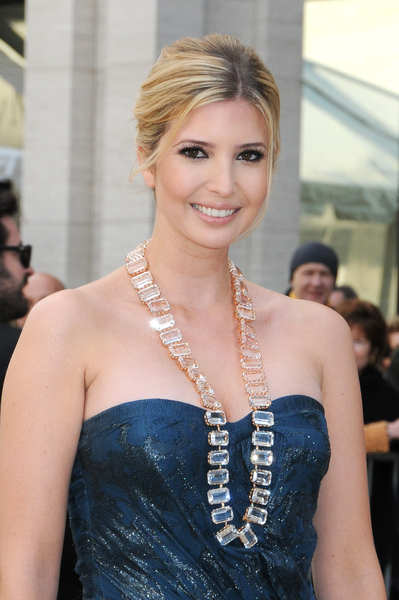 I've actually been following the engagement and now marriage of Ivanka Trump and Jared Kushner. I think I enjoyed the stories because it's surprisingly old-fashioned – both are scions of wealthy real-estate-developing New York families, both are in the media (in Kushner's case, he's a media publisher), and both are seemingly well-adjusted, nice people. Their lack of anything tawdry, shocking or gross is what fascinates me, I suppose. It's all so old-school! Oh… wait. Jared's father is felon. But The Donald is no prize either, so I guess that's the small scandal.
Anyway, 27-year-old Ivanka Trump (daughter of Ivana and Donald) married 28-year-old Jared Kushner (publisher of the New York Observer) in New Jersey on Sunday after a three month engagement. They wed at her father's golf club in Bedminster, New Jersey in front of 500 invited guests. The bride wore Vera Wang, and by most accounts it was a totally elegant ceremony. Oh, and Ivanka converted to Judaism too! Mazel tov!
Jewelry designer and entrepreneur Ivanka Trump is a married woman!

The 27-year-old daughter of Donald Trump swapped vows with New York Observer owner Jared Kushner Sunday in New Jersey, Usmagazine.com has confirmed.

The afternoon nuptials took place on the grounds of the Trump National Golf Club in Bedminster, New Jersey. Ivanka wore a Vera Wang wedding gown, inspired by Grace Kelly.

"She was the most stunning bride," a rep for Ivanka tells Us.

Despite a short engagement, Ivanka says the plan for her special day quickly fell into place — thanks to a wedding planner who kept her on task.

"I only had a 3 month engagement so it was all done pretty quickly," the newlywed told Us before the ceremony during the launch party for her new book Trump Card. "To all those women planning a wedding, just be organized and decisive. It also helps if you have a wedding planner helping you out!"

Another big plus that bodes well for their nuptials? Dad Donald is a fan of Kushner.

"They make a magnificent couple," the mogul has told Us of Ivanka and his new son-in-law.

Ivanka announced her engagement last July via Twitter. "I got engaged last night…truly the happiest day of my life!!!" she wrote.

The couple have been dating since 2007. They briefly split, but reconciled in July 2008. Trump, an executive vice president at the Trump Organization, converted to Judaism for Kushner, the owner of the New York Observer.
[From Us Weekly]
See, doesn't it seem like a nice ceremony? I wonder if The Donald cried. He seems like he could be a sentimental man. Or perhaps he was just thinking about all of the property the two families can now develop together. Anyhoodle, do you think Ivanka will get knocked up right away? I bet she does.
Ivanka Trump is shown on 5/18/09. Jared Kushner is shown in 2007. Credit: PRPhotos