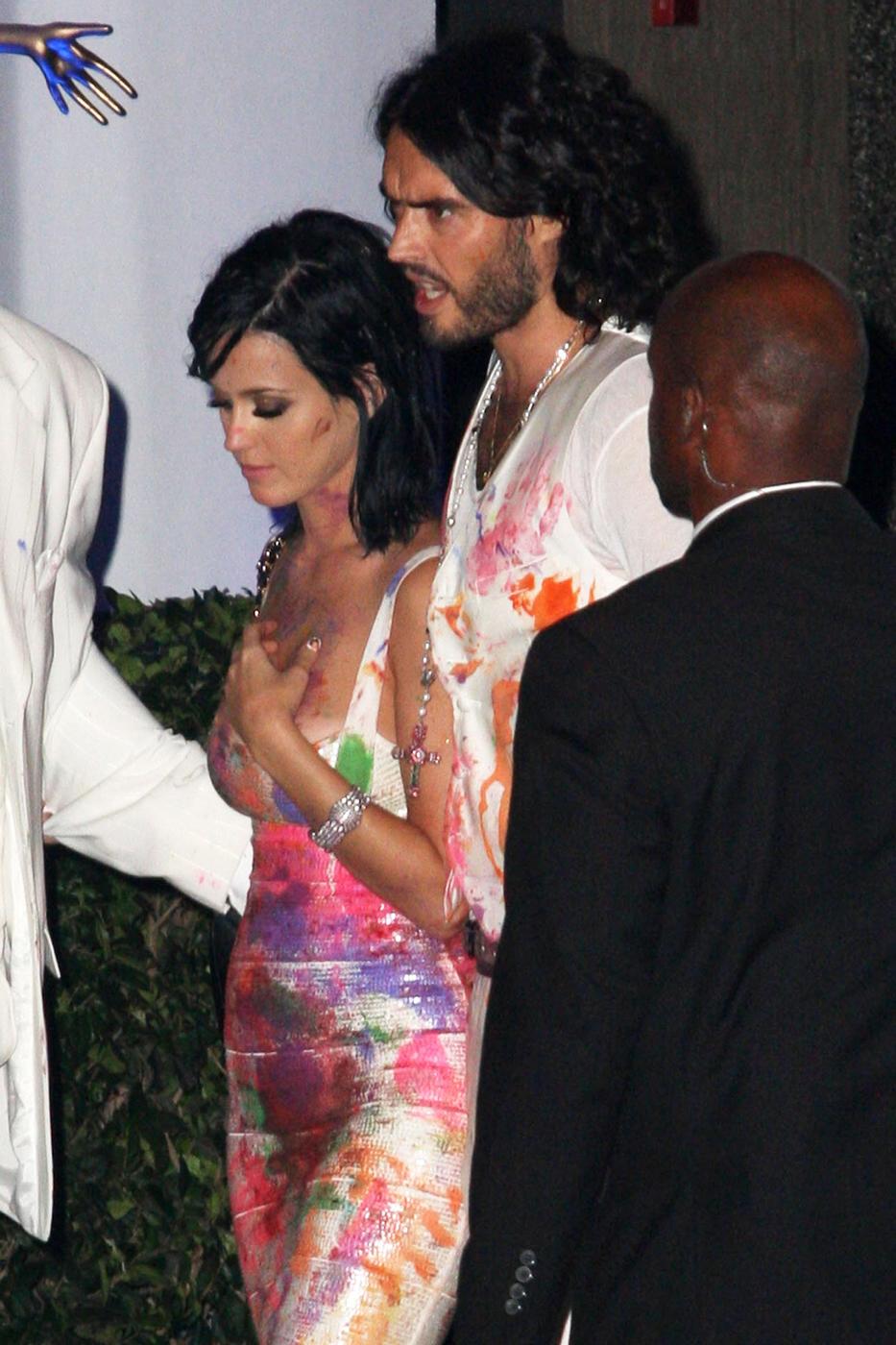 Katy Perry had quite the messy, outlandish, attention-getting birthday party over the weekend. Talk about a party that fits the host's personality. Katy requested all her guests wear white. And then there was some sort of painting involved – all over people's clothes. Of course the guests weren't aware of it beforehand, and a few looked a little terse on the way out of the restaurant.
Sadly the whole thing was shut down by the fire marshal. And if you ask super-accurate blogger/guest Perez Hilton why, it's because they were having too much fun. Yep, I could see how that could bother the fire marshal. I'm sure it had nothing to do with safety.
Katy Perry threw a colourful birthday party this weekend, which saw her guests covered head to toe in paint. The singer left her 25th birthday covered in splashes of paint, but new boyfriend Russell Brand did not look so amused in his ruined jeans and T-shirt. Katy had asked all her guests to dress in white for the Charlie And The Chocolate Factory-themed party but did not tell them they would be doused with neon paint before the night was over.

She wore a low-cut, tight sequinned white dress to the event, and had her nails painted with the faces of Oompa Loompas. The bash was held at restaurant The Beach On Sunset in West Hollywood on Saturday night and it was transformed into Willy Wonka's factory. The evening began with a sit-down dinner, which celebrity blogger Perez Hilton, who was a guest, said included 'lots of yumminess, especially some deelish yellow and green mashed potatoes'.

He added: 'There was so many sweets downstairs for dessert that we're surprised we didn't go into a food coma.' Guests included country singer Taylor Swift and P.Diddy, as well as her mother, father and sister. P.Diddy, who is known for his white-themed parties, was reported to have sent his assistant out for six new pairs of white Levi jeans. Katy looked all white at the start of the evening, as she nibbled on a huge Wonka-style lollipop

One partygoer told Radaronline.com: 'They got a little crazy with the paint! I wasn't expecting it but everyone got painted – even Taylor Swift.' This evening Perez Hilton wrote on Twitter: 'When I say @KatyPerry's birthday party last night was epic – I'm not exaggerating!' Katy and Russell are said to be head-over-heels about each other and arrived at the party hand-in-hand. Country singer Taylor Swift was at the party in a strapless white dress, which was later daubed with colourful paint

'They were totally loved up,' an eyewitness said. 'Katy was having a ball and Russell was catering to her every whim. At one point he was down on his knees bowing and offering her a huge swirly lollipop. She grabbed it from his hands and pretended to knight him with it.' But Perez revealed on his blog that health and safety officials put an end to their fun. He said: 'We all had soooooo much fun that the lame ass fire marshals put a damper on the whole party and kinda shut it down after Katy's blowing out her birthday cake turned into a food fight and cake was splattered all over the dance floor.'
[From the Daily Mail]
Russell looks particularly grumpy exiting the restaurant. I'm sure it's because his clearly expensive outfit was ruined. You know that's going to set him back another $8 at Kmart. Katy has some fun pictures from the party on her Twitter. I always enjoy the photos celebs post. They're just a little more fun than the pro shots. There are also a ton of photos on The Cobra Snake's website. Looking at them, I can see why the fire marshal shut it down. It looks like a slippery, messy, potentially dangerous time. If there were a fire, you'd have to make your way through what appears to be an epically messy, slimy floor. It does look like a good time though.
Katy kind of annoys me for her blatant need for attention, but on the other hand she knows how to make colorful photo ops. And I'm sorry, but her birthday cake is pretty much the most amazing thing I've ever seen. New goal in life: have Oompa Loompa-festooned birthday cake before I die.
Here's Katy and Russell Brand along with guests and celebs Matt Dallas (from the show "Eastwick"), singer JoJo, Taylor Swift at Katy's birthday party. Images thanks to BauerGriffinOnline, Pacific Coast News, and INF Photo.