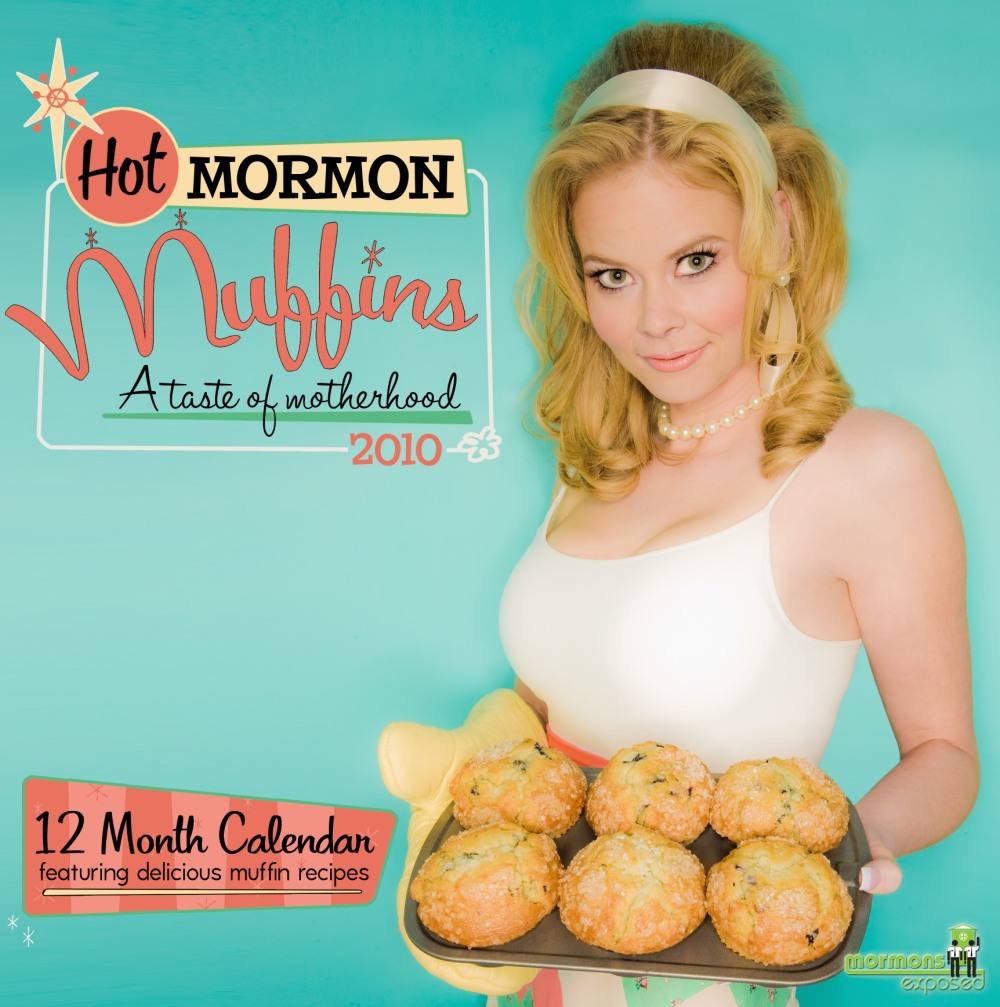 A website called Mormons Exposed has put out a calendar that's getting quite a lot of attention. It features Mormon moms dressed provocatively – one even in her bra and panties, several in bathing suits, another dressed up as a schoolteacher with her cardigan sweater unbuttoned so her bra is showing, etc. None of the photos are all that provocative by secular standards, but the Mormon church places a high value on modesty. Most Mormons wear special underclothes (known as "the garment" by Mormons and sometimes called "Mormon underwear" by non-Mormons) after their Endowment, which is often part of a Mormon marriage .
According to my Mormon friends it's not uncomfortable or restrictive, though it can be rather hot. But part of the point is that you have to dress somewhat modestly simply to keep the garment from showing. Women are supposed to wear it even under their bathing suits, though I know a few who don't. Like I said, not all Mormons wear it – and I think it's safe to say the women in this calendar certainly don't.
According to Mormons Exposed, the point of their website – and the calendar – is to be a "vehicle to create dialog and deliberately debunk the subservient stereotypes of women's roles within the Mormon Church." Here's my question though: is it supposed to create a dialog amongst Mormon women? Or to remind the rest of us that women often have a subservient role in Mormon marriages? Or – just as likely – is it to create shock and thus money? Mormons Exposed also has a male equivalent calendar called Men on a Mission Calendar. It's a bunch of men who have returned from their missions and are all buff as a result.
Some articles aren't paying close attention to the information that's given on the Mormons Exposed website, and are incorrectly saying that the calendar is being put out by the Mormon church, which is absolutely not true and would make no sense. Especially considering the website sells a magnet that says, "My Other Wife is a Mormon" and a t-shirt that says "I'm My Own Uncle" – which comes in Brigham Blue.
Q: What makes the Hot Mormon Muffins calendar so unique?
A: Behind the eye-candy, this brand has a deeper story – one that can reshape perceptions, heighten awareness, and perhaps encourage and inspire a broadened acceptance of human and religious diversity. The fact that twelve Mormons mothers appearing in a pin-up calendar has certainly raised eyebrows, it has also helped sort out some common misconceptions about Mormons. The shock value of what these traditionally conservative mothers has done is a powerful progressive step in building a dialogue that encourages people across every belief system and walk of life to defy stereotypes, step out of judgment and embrace tolerance.
[From Mormons Exposed]
The website also notes that the founder, who was raised in an 8th generation Mormon family, was excommunicated from the LDS church as a result of the project. I tend to assume the same will happen with the moms in this calendar. It does bring up some interesting points on Mormonism, but in most religions and cultures you can find examples of women being treated as subservient to men. That said, there are some unique ways in happens in Mormonism. Jon Krakauer's "Under the Banner of Heaven: A Story of Violent Faith" is a fantastic book that deals with women's role in the Mormon faith, and even argues that Elizabeth Smart was able to be abducted and held by her captors without running away because as a Mormon girl she was taught to be obedient to men.
Anyway, here's the calendar. Shocking to most of us, no. Interesting, nonetheless. Images thanks to Fame Pictures .