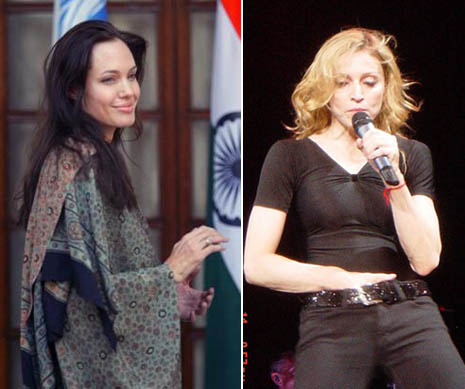 Angelina and Madonna have supposedly put aside their differences. Madonna is said to have called Angelina to offer her support after Zahara's birth mother started talking to the press last month. The conversation so touched each of them that they wept bitterly over how difficult it is to be a super famous privileged person adopting an African infant whose impoverished family could not afford to keep them. *cough* bullshit *cough*
Madonna publicly dissed Angelina last year when a Time reporter asked her if she was "jumping on a bandwagon" by adopting an African baby. She said "Look, I could have joined the U.N. and become an ambassador and visited various countries and just kind of showed up and smiled and looked concerned. But that's not getting to the root of the problem." Instead she decided to set up orphanages to help indoctrinate Malawian children into her cult religion, which she considers superior to working with the U.N.
In January Angelina made a dig back at Madonna, telling a French magazine that she "would never take a child away from a place where adoption is illegal," but quickly adding that she's "been horrified by the attacks [Madonna's] been subjected to [for adopting Davie]." Angelina's rep said that the article omitted many more positive comments that she made about Madonna in that same interview.
The National Enquirer is reporting that Madonna and Angelina tearfully bonded over their mutual adoption problems and bisexual pasts but that sounds highly unlikely to me:
Madonna, upset by reports that yet another woman claiming to be the mother of Angelina's adopted tot Zahara had popped up, phoned [her] and told her to hang in – that she'd had a similar problem when the African father of her adopted son David suddenly claimed he hadn't understood the word "adopt." What was supposed to be a brief call turned into an emotional sob-fest that lasted more than an hour – and ended when the moms promised to call each other once a week for support. Delighted Madonna told pals: "I have a new confidante in Angie."
Of course I added that bonding over their bisexual pasts part, but it's probably just as true as this is. Maybe I'm wrong and Madonna and Angelina really did pour out their hearts to each other over the phone, realizing that they're kindred spirits. They're both haughty highly successful women who think they have the answers to everything. They could either hate or love each other, although most signs point to hate.
I made that header image back in January and could not resist using it again.