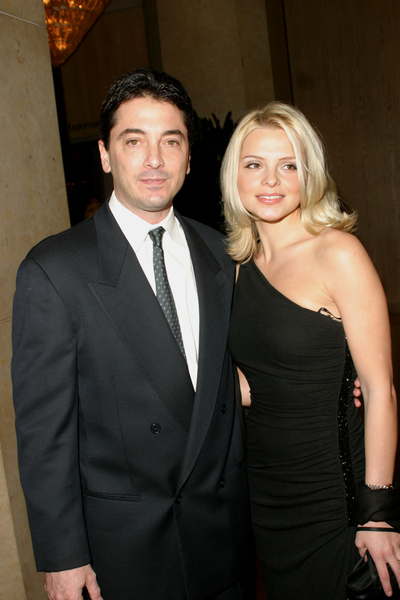 Someone actually married Scott Baio. That's about as smart as marrying OJ Simpson: you KNOW how it's going to end. Not well. The eternal ladies' man finally buckled down and put a ring on a woman's finger. Turns out, all you have to do to get Scott Baio to marry you is get knocked up. A little over a month after giving birth to his first child, Renee Sloan, 35, walked down the aisle and pledged to love Scott Baio. And when I say walked down the aisle, I mean walked down an aisle on a rooftop during a hush-hush ceremony.
Scott Baio is 46… and married. The former Happy Days star and legendary bachelor finally tied the knot with longtime girlfriend Renee Sloan in a rooftop ceremony at a luxury high-rise Saturday in Los Angeles. The small religious ceremony was filmed for an episode for the second season of VH1′s reality show Scott Baio is 45… and Single, which premieres next month.

Among the attendees: Sloan's 18-year-old daughter by a previous relationship, and according to sources, the newest member of the Baio family: the couple's newborn daughter, whose name has not yet been released. Baio and Sloan, a model and actress he dated in the late '90s after meeting at the Playboy Mansion, stayed friends, and reconnected romantically a couple of years ago.
[From People]
Frankly, if I were going to marry Scott Baio, someone so notoriously famous for his fear of commitment, I wouldn't hold my wedding ceremony on a roof. It's too easy for him to jump. I haven't watched his show, but whenever I've seen Baio interviewed, he's come across as kind of a skeeze. But there are always those ladies that like their men sleazy and horny, and if that's your thing, you can't do better than Scott Baio. So what kind of lady does it take to change the mind of one of Hollywood's most steadfast bachelors? Well a set of fake boobs won't hurt. Yet it still doesn't sound like Scott's completely on board with the concept.
Not long ago the idea of marriage was an anathema to the longtime Playboy Mansion regular. "My parents were married 53 years, good and bad," the actor told PEOPLE recently. "Can I do that? Probably not. But I really hope I can. I don't know, 53 years with the same human being? I can't be around myself for more than three or four hours before I want to kill everybody."
[From People]
Good luck lady. I'd try to pace your schedule so you give Scott Baio a little alone time every two hours or so, just to play it safe. And make sure the kid doesn't rattle him too much. And I'd open up a secret bank account in the Cayman Islands and stash a little away for the future. Marriage or no, it doesn't sound like Scott Baio is in it for the long haul.