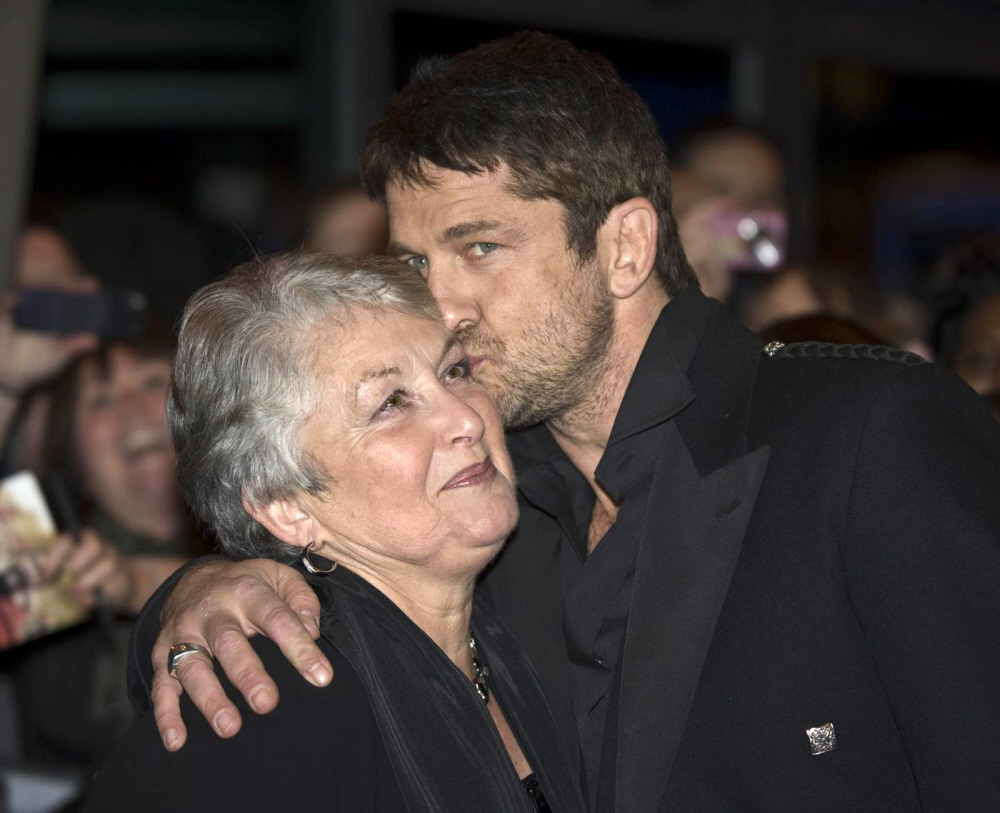 Oh, let me introduce you to my future mother-in-law, Margaret. She's Gerard Butler's mum, and she was his date on Sunday for the UK premiere of Law Abiding Citizen. Isn't she cute? I know she'll love me when Gerry and I get married. And at our wedding, I know that Gerry will probably be wearing the kilt. The premiere was actually held in Glasgow, Scotland, so I guess that explains the kilt in these pictures. Plus, Gerry probably wanted really easy access for… no, I won't go there. Maybe he was hoping to recreate Marilyn Monroe's Seven-Year Itch skirt-billow for the premiere. You know what I think really happened? I think Gerry's mommy made him wear the kilt.
According to Pacific Coast News, 70 of Butler's own family and friends were at the premiere, which basically means no pub was safe in Glasgow post-premiere. The Sun also notes that Gerry "completed the outfit by teaming the traditional clobber with a sporran." Which sounds absolutely filthy. I'd like to show Gerry my sporan. And I'd like to check out his clobber. By the way, doesn't it look so cold in Scotland? I bet Gerry was quite literally freezing his balls off.
I just wanted to mention a few more Gerry-related items. First of all, his 40th birthday was last week, so happy belated birthday to him! The big 4-0. I wonder if this birthday will make him come to his senses and finally call me? Second item: I finally saw The Ugly Truth, and it was cuter than I expected. I hate to admit it… but Gerard and Katherine Heigl had a lot of chemistry together. Looks like she doesn't grate on everyone she meets! That being said, all I wanted to do when I watched that movie was force Gerard into a hot shower with ten bars of soap. I realize that his character's deal wasn't all suave and sophistication, but did he have to look so dirty? Anyway, I'm sure we can work it out, and if not, I'll ask his mom to get my back. She looks like she would like me, doesn't she?
Here's Gerard and his mum Margret at the Law Abiding Citizen premiere in Glasgow on November 15, 2009. Credit: Pacific Coast News.