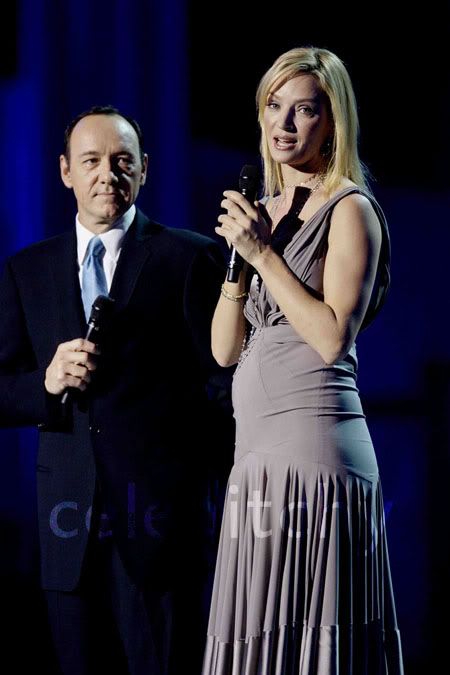 Uma Thurman is already a mother of two from her previous marriage to Ethan Hawke, and her boyfriend of a few months Arki Busson has two children with model Elle Macpherson, but are they planning on expanding their brood together?
Entertainment Wise points out that an otherwise fabulously toned Uma was sporting a little pot belly at the annual Nobel Concert in Norweay, which she hosted.
The dress kind of looks like it's bunched up around the middle, like maybe when it was first purchased it fit better?
Uma recently admitted that her ex-husband was right, she couldn't commit to both her career and motherhood.
"(Hawke) claimed I couldn't be a full-time mother and actress. I insisted I could. But I couldn't. I really try to give all of myself," Contactmusic quoted her, as saying.

"I wouldn't even read a script that wasn't shooting in New York because I needed to be home.

"It's a very difficult balance. I've thought about quitting but I love it too much, and now I'm a single mother so I can't quit," she added.
Uma and Arki were rumoured to be engaged in October, but her rep denied the reports.
Is Uma Thurman pregnant? I hope so, becasue there's nothing worse then being told you look like you've got a pot belly.
Note by Celebitchy: It does look like a pregnancy bump to me. Uma is 37 and her boyfriend Arpad Busson is 44. Thanks to WENN for these pictures, also featuring Kevin Spacey at the The Nobel Peace Prize Concert in Oslo, Norway on 12/11/07.