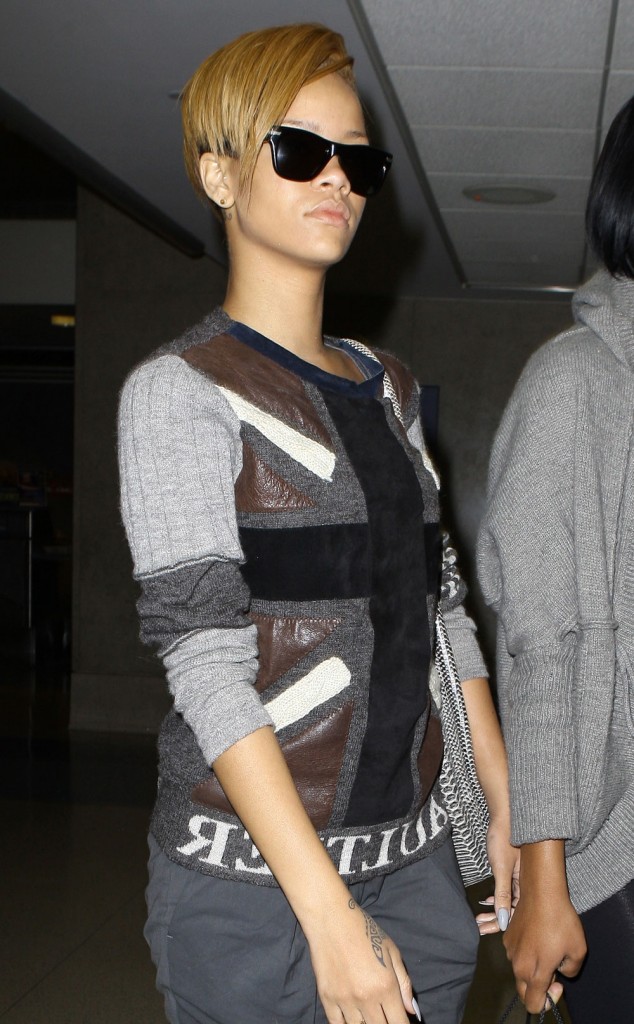 Rihanna is quoted as telling German Magazine Bravo that she's looking for a guy who's well hung. She supposedly said "He has to be good in bed and the size matters. You know what I mean?" She also allegedly went on about how she sizes a guy up by checking out his package first. It doesn't sound like something Rihanna would say, and the quotes are too good to be true. They're funny as hell and sound like something a parody website would make up. I can't find the article on Bravo's website and I'll try and pick it up this weekend to see if I can verify the quotes. (I'm in Germany. If any of our German readers have seen the article and can verify the quotes, please let us know.) It's worth noting that Gala, a German celebrity magazine similar to Hello!, is running the quotes. It's possible they got them from the same dubious source as everyone else, though. The translation is accurate based on the quotes in Gala, according to my German husband.
This is all pretty amusing, but I honestly don't think she said this. We'll see:
Rihanna has revealed she is on the hunt for a new man – but he has to have a big "toy" and it has to be fun.

Rihanna wants a man with a big pen*s.

The 'Umbrella' singer – who has been single since Chris Brown assaulted her in February – is ready to date again but isn't interested in suitors who don't measure up in the bedroom.

When asked what a guy needed to impress her, she quipped to German magazine Bravo: "He has to be good in bed and the size matters. You know what I mean? The inner beauty counts as well, but without a toy it doesn't make it fun. Right now I don't want to have a serious relationship, I want to have fun."
Although she is on the look-out for a guy, Rihanna is careful about who she gives her number to.

She said: "I love flirting at the moment. I'm single and I'm enjoying my freedom. But I don´t give my phone number out that often. But if I'm dating, I check the boy from the top to the bottom."

One guy Rihanna has her eye is 'Grey's Anatomy' actor Jesse Williams – who plays her love interest in the video for 'Russian Roulette'.

The 21-year-old star revealed: "Jesse, who's in my music video for 'Russian Roulette', is soooo hot!"
[From Contact Music]
I'm in the "motion of the ocean" camp, but only to a point. There's too small and too big, but anything in the average spectrum is usually fine and more than average is a nice surprise. Again, chances are really high that these quotes were a joke and someone is misinterpreting them. If not, Rihanna is pretty foolish to spill to some random magazine that she likes a man who is packing. (As an only mildly related aside, is anyone else annoyed that Hung won't be coming back on HBO until the summer of next year? I love that show.)
Rihanna also recently admitted in a radio interview that she sometimes misses Chris Brown when she's reminded of their relationship. She said she doesn't turn off Chris' music when it comes on the radio and added "I like his music." She's not haunted by his memory, though. "I've gotten over it, but there's definitely constant reminders. A lot of it is listening to the radio and songs coming on." As for the rumors that she's dating Tristan Wilds from 90210, she said "I don't even have his number." She said he came over to a house party she threw and that's it. When asked if she's open to dating now, Rihanna answered "No, I'm a very flirty girl though. I don't think I have a lot of time for a commitment right now. Or the energy." She probably has the energy for some hot encounters, but I doubt she said that she vets guys by their size and performance. Or else why would she have been with Chris Brown for so long?
Update: Thanks to reader Arvedia for confirming that Bravo does have this interview and that Rihanna is quoted accurately! Her comment is below.
Rihanna is shown at LAX yesterday. Credit: WENN.com