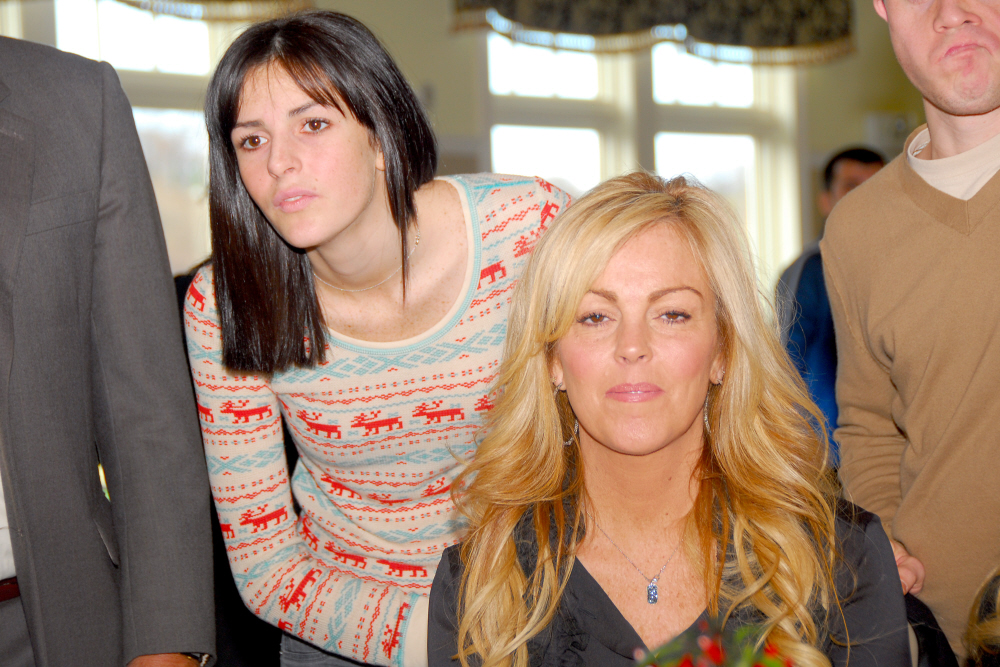 Do you even recognize her? Here's 15-year-old Ali Lohan with her mom, Dina, helping out at a charity luncheon in Long Island. Ali is wearing a holiday sweater! And she isn't wearing hooker makeup, or hooker heels. Praise the Long Island Lord. The luncheon was for 200 people "suffering from autism and other disabilities." It's a really, really nice thing to do, so I'm not going to snark on it.
Alright… one small snarky thing: Dina looks totally over it in these photos. Ali looks like she's having a good time (she's probably really comfortable in those clothes as opposed to her nighttime hooker-wear that Lindsay makes her put on), but Dina looks like "get me out of here and into a Shoe-han store."
LINDSAY LOHAN's mother, sister and grandmother spread a little Thanksgiving cheer on Tuesday (24Nov09) by helping to serve food at a charity luncheon in New York.

Dina Lohan, her youngest daughter Ali and her mother Ann joined volunteers at the Harbor Links Club and Grill on Long Island to dish up a pre-Thanksgiving meal to over 200 people suffering from autism and other disabilities.

The event took place two days before the U.S. celebrates the annual holiday on Thursday.
[From Contact Music]
I'm struggling to find the angle on this one, honestly. I mean, I know some people will bitch about "oh, there were cameras there, they weren't doing it out of the goodness of their hearts" but I doubt the cameras bothered the 200 people they were feeding, you know? I've come to the conclusion that Ali and Dina might have sincerely done this to be… good people. To spend a few hours being nice. Granted, it's after years of being crazy (for Dina) and years of wanting to be just like her crackhead sister (for Ali). But still… good work.
Dina Lohan and Ali Lohan serve over 200 people with autism and other disabilities for a pre-Thanksgiving luncheon at Harbor Links Club and Grill on Long Island, New York. Credit: WENN