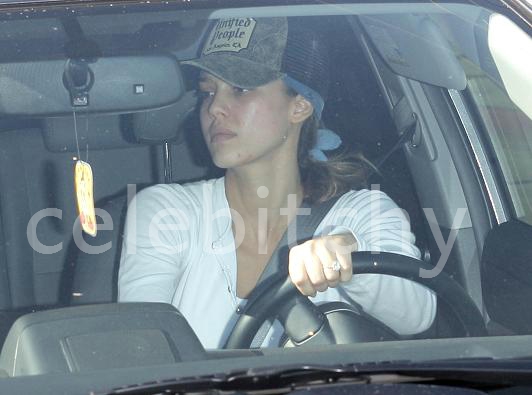 Recently knocked-up Jessica Alba may be engaged. I'm allowed to say "knocked-up" because it was a movie and is now part of the lexicon, and is no longer disrespectful. Right? Okay let's go with that. Though Alba loudly proclaimed that she wasn't getting married anytime soon (Us Weekly reported, "She doesn't want to be pregnant in a dress!") it appears she's at least gotten engaged. Photos were taken of Alba driving in her car with a very large engagement ring on her left hand.
Mom-to-be Jessica Alba was seen leaving the gym earlier today with what seemed like a huge rock on her finger.

Could her beau Cash Warren have proposed over the Christmas holiday? That rock is wayyyy too big to be a gym ring, and she wouldn't be wearing it unless it was a new engagement ring right?

The couple had initially broken up over the summer because Alba reportedly wanted to get married and Cash wasn't ready. Three months later, they're back on and there's a baby in the oven.

Alba has said that she doesn't want to be pregnant in a wedding dress so don't wait for a shotgun wedding, but it looks like Cash is going to make an honest woman out of Alba after all.
[From Hollyscoop]
If Jessica and Cash are engaged, I will point out that she's also making an "honest" man out of him as well, since they're both going to be parents soon. The couple has been dating since they met in 2004 on the set of "Fantastic Four," where Cash was a director's assistant. They broke up briefly this summer, reportedly because Jessica wanted to get married and Cash wasn't ready. I don't want to be totally obnoxious, but Cash Warren could do a lot worse than Jessica Alba. Have you seen her butt? I would give both my eyes and at least one leg for that butt. Granted it wouldn't be nearly as sexy strapped to one leg, but I think I could make it work. If they are indeed engaged and Jessica isn't just pulling a Britney Spears/Lindsay Lohan by wearing a huge ring on her left hand, congrats to them both!
Picture note by Jaybird: Header image of Jessica Alba leaving the gym yesterday wearing what appears to be a very large engagement ring. Images thanks to WENN.
Update: Alba's rep confirms that she is engaged to Warren.