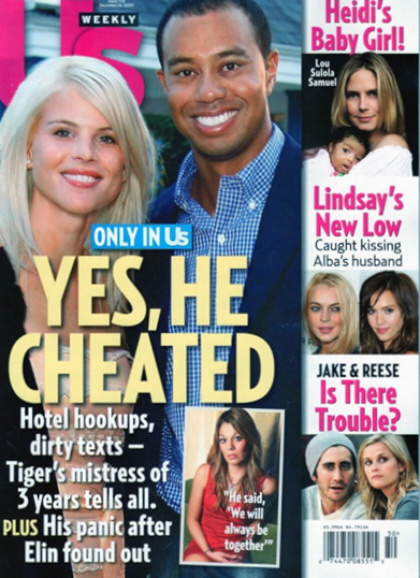 At this point, the scandal surrounding Tiger Woods has gotten too hot to handle. Women are coming out of the woodwork, and I'm not sure if I can keep up with them. First up: Jaimee Grubbs. We talked about her yesterday, she's the girl that Us Weekly pretty much has on their payroll. In the first story, Grubbs claimed that she and Tiger had an affair over the course of two years, with someodd "20 sexual encounters". In Us Weekly's cover story, Grubbs reveals some of the text messages and voice mail messages Tiger left for her. In one online right now (go to Us Weekly to listen here), Tiger leaves her a message telling her that his wife found her number, and that she needs to change her message.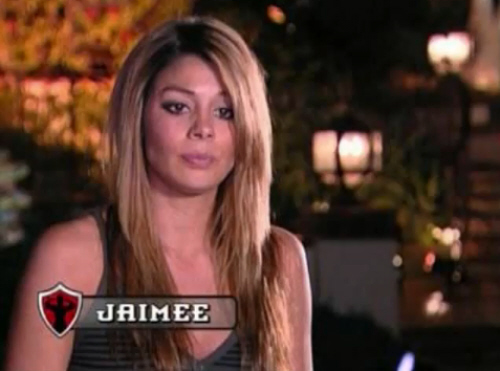 On Nov. 24 — the day before reports of his alleged infidelity first surfaced — Tiger Woods, 33, phoned his off-and-on girlfriend, 24 year-old Los Angeles cocktail waitress Jaimee Grubbs, and left a message in which he begged her to change her voicemail greeting.

"Hey, it's Tiger," he says in the voicemail, obtained by Usmagazine.com (listen above). "I need you to do me a huge favor. Can you please take your name off your phone? My wife went through my phone and may be calling you. So if you can, please take your name off that. Just have it as a number on the voicemail. You got to do this for me. Huge. Quickly. Bye."

In this week's issue of Us Weekly (on newstands now) Grubbs details their 31-month affair. She reveals that they first hooked up in April 2007, and went on to have 20 sexual encounters.

She also shares her evidence, including photos and more than 300 racy text messages. One from Woods begins: "I will wear you out…"

"I loved how we got along," Grubbs tells Us Weekly. "But I knew, in the back of my mind, there could never be just us. There would always be the wife, or somebody else."

The billionaire golfer wed model Elin Nordegren, 29, in 2004; they have a two-year old daughter, Sam, and a nine-month old son, Charlie. The couple's argument over Woods' alleged affair with NYC hostess Rachel Uchitel, 34, reportedly led to his one-car accident near his home in Florida this Friday.
[From Us Weekly]
Radar also has addition information about Grubbs – apparently, she bragged about their relationship to friends (sound familiar?). Speaking of Rachel Uchitel, Radar also reports that "Tiger's organization booked and paid for Rachel's trip" to Australia. For goodness sake.
Anyway, now yet another girl has come forward claiming to have had an affair with Tiger. Life & Style is reporting that "insiders" close to Kalika Moquin claim she hooked up with Tiger in Las Vegas. Moquin is neither confirming nor denying.
Life & Style can exclusively reveal the identity of a woman who has quietly been seeing golf star Tiger Woods for months — as recently as late October.

Kalika Moquin, a marketing manager for The Bank nightclub in Las Vegas, hooked up with Tiger more than once at his Las Vegas hotel during the weekend of Oct. 23, an insider tells Life & Style. Kalika is the third woman to be publicly linked to Tiger. Club promoter Rachel Uchitel and Los Angeles cocktail waitress Jaimee Grubbs have also been named in shocking reports as women with whom Tiger has cheated on his wife of five years, Elin Nordegren.

When contacted by Life & Style, Kalika neither confirmed nor denied an affair with Tiger. "It's not appropriate for me to comment one way or the other," she said. "At this time, I'm just choosing to focus on my job."

Reps for Tiger would not comment. But the insider tells Life & Style, "They've hooked up a bunch of times. Tiger told Kalika that married life isn't all it's built up to be. He said he wasn't happy in his marriage or his home life and that there was just so much pressure on him."
[From Life & Style Magazine]
Voicemail messages or I don't believe it. No, that's not true. My problem is that now I believe all of these girls. Jesus, how many women was Tiger nailing? I now wonder if these three women (Uchitel, Grubbs and Moquin) are just the tip of the homewrecking iceberg. Elin needs to file for divorce, stat. And get that money. This is ridiculous.
Us Weekly cover courtesy of CoverAward. Screencap of Grubbs, and Life & Style has the photo of Moquin.