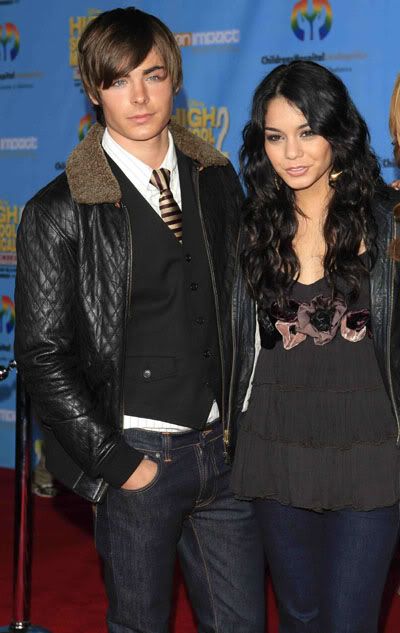 High School Musical's onscreen and offscreen couple, Zac Efron and Vanessa Hudgens, have parted ways. Zac, 20, is said to have broken the news to Vanessa, 19, over the phone just a week before Christmas. He had given her a brand new Audi S4 convertible as a birthday present on December 14, just a few days before he broke up with her. Maybe it was one of those guilt gifts:
Zac… phoned Vanessa about a week before Christmas and told her he was ending their relationship. She was stunned and upset, a source close to them confided.

"They've been together for a long time, and he didn't even call her to wish her a Merry Christmas. She was crushed!" a source close to the teen idols told The Enquirer.

Vanessa was blindsided by the breakup because Zac had just given her a brand-new car – that matched his – for her 19th birthday, which was Dec. 14.

But the sleek black Audi S4 convertible ended up being a parting gift, says the source.

"Zac wants to move on, start seeing other girls. He's had no shortage of women hitting him up to become Vanessa's replacement. Zac's got enough numbers to fill a phone book!"
[From The National Enquirer, print edition, January 14, 2008]
The Enquirer goes on to say that Vanessa has been coping by hanging out with her co-star and new nosejob recipient Ashley Tisdale. The two teens have been seen out shopping, getting fast food, and hitting the gym together.
They also note that Vanessa wore a T-shirt to LA Fitness on December 26 that said "Love Stinks!" It often does, especially when you're young. Vanessa won't have much trouble finding a replacement if she wants one, and we're all likely to hear about it.
JayBird reported yesterday that Vanessa called her nude picture scandal "traumatic" and went on to blame the Internet for her lack of privacy. She should really learn not to e-mail naked photos of herself then, as JayBird pointed out. Now she doesn't have to send her potential suitors naked pictures, though. All they have to do is google to see the goods, and surely that will work out to her advantage.
Zac Efron, Vanessa Hudgens and Ashley Tisdale pre-nosejob are shown at the High School Musical 2 DVD screening on 11/19/07, thanks to WENN and PRPhotos. Ashley looked so much better before. Also look at how happy Ashley and Vanessa look while Zac is just brooding.
Update: These two showed up at an event together on January 5th, so if they were broken up they're either back together or acting like they are.