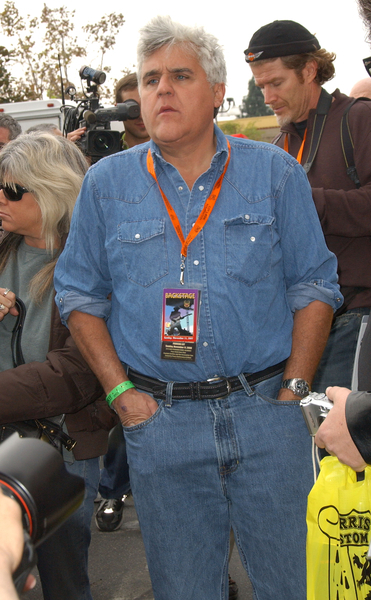 Jay Leno is in a world of hurt. Apparently he didn't quite understand the WGA's rules about writing material for his show. All of the late night acts are going back on the air in the next week or so, with Leno and Letterman back on this past Wednesday. Letterman's production company, Worldwide Pants, came to a separate agreement with the Writer's Guild, essentially agreeing to honor all of their demands in terms of royalties and web payouts. That allowed him (and Craig Ferguson, who's show is also produced by Letterman's company) to go back on their air with his usual team of writers. The blogosphere was alive with excitement: lots of people noting that Letterman would finally beat Leno in the ratings. However the general consensus is that Jay Leno did a better job with just himself than Letterman did with his whole team. Ouch.
Technically, Leno's only option was to perform his monologue spontaneously. That's a tall order. As a writer and member of the WGA, he was not allowed to pen anything beforehand. Though it's likely that late-night hosts Conan O'Brien and Jimmy Kimmel wrote something before they stepped on stage, Leno openly violated the rules, admitting that he wrote his monologue beforehand.
"Tonight Show" host Jay Leno could face disciplinary action from the Writers Guild of America for writing his monologue while the nearly 2-month-old writers strike continues.
Leno, a member of the guild, met Thursday with WGA West President Patric Verrone to discuss his decision to pen his opening segment. During the meeting, Leno was told that "writing for 'The Tonight Show' constitutes a violation of the [WGA] strike rules,' the WGA said in a statement.

"[Leno] was pretty flagrant in saying he wrote his monologue," said Sherry Goldman, a spokeswoman for WGA East. "The other hosts … found a way around it." It's not yet clear what would happen to Leno if he continues to write monologues in the midst of the strike, but he could be brought before the WGA's disciplinary committee, Goldman said.
[From MarketWatch]
The WGA's strike contract is notoriously hard to interpret, however most people outside of the WGA (including NBC) agree that anyone outside of prime time is allowed to write their own material.
"The WGA agreement permits Jay Leno to write his own monologue for `The Tonight Show,'" NBC said in a statement Thursday. "The WGA is not permitted to implement rules that conflict with the terms of the collective bargaining agreement between the studios and the WGA."
[From the Associated Press]
This strike is getting pretty tiresome. And I say that not as a reflection on the writers, but on the corporations. The WGA is fairly rigid: I'm pretty sure they'd get mad if one of their members wrote so much as a grocery list at this point. Remember that note you jotted down on a Post-it, reminding you to call your aunt? Violation. But they have a point. If they start making a bunch of exceptions, pretty soon the strike won't stand for anything. The Alliance of Motion Picture and Television Producers website has a counter on their website of how much money the writers are losing in the short term by striking. What they don't have a counter for is how much money the writers would lose in the long term if they didn't strike. This is pretty much a battle between principles (writers) and egos (the alliance). Get ready for a lot of game shows and reality TV next year.