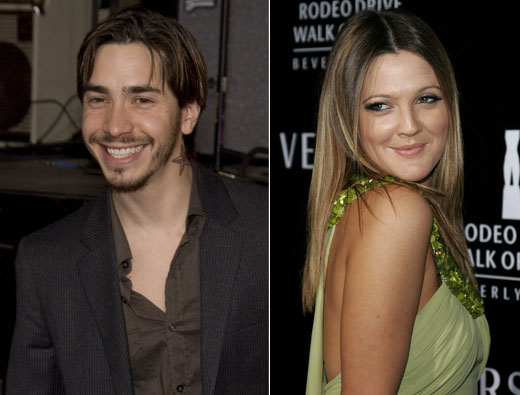 Drew Barrymore is said to be pushing her "Get a Mac" boyfriend, Justin Long, to propose despite her bad track record with marriages and the fact that she's only been dating Long for five months. 32 year-old Drew was married to LA bartender Jeremy Thomas from March, 1994 to February, 1995. She was just 19 at the time. Her next marriage, to obnoxious comic Tom Green, lasted from July, 2001 to October, 2002. That's how long the marriages officially lasted, but she split with both husbands well before their divorces were final of course. The National Enquirer points out that her two marriages lasted less than six months combined.
Drew Barrymore – who's weathered two divorces – is determined to marry her new boyfriend Justin Long even though they've dated for only five months, her pals reveal…

"Drew knows she can make a marriage work – and she thinks Justin is the one," a friend told the Enquirer. "She kidded Justin that his New Year's resolution is for him to ask her for her hand in marriage…

"Drew has been pushing him to pop the question to her around her birthday in February," revealed the insider.
[From The National Enquirer, print edition, January 14, 2008]
Justin took Drew to Thanksgiving with his family in Connecticut, and it sounds like these two are getting serious while managing to avoid the spotlight. They also took a nice vacation together in Florida right before Christmas. Star reports that they checked into "the Delgano hotel in Miami Beach on December 19th after spending the weekend in the Florida Keys."
Justin has a decent career ahead of him. Although he's best known at the Mac guy in those commercials, he also stars as the voice of Alvin in the Alvin and The Chipmunks movie. Justin and Drew met this summer on the set of the upcoming film she's producing, He's Just Not That Into You, in which he stars.
There was a big deal made out of a night Drew had out with friends in Toronto in early November. She was photographed drinking a beer (shocker) and talking to some guy at a bar. She looked like she was whispering in his ear but maybe she had to yell because the music was too loud and that's why she was so close to him. We haven't heard much about Drew since so it sounds like she's settling into a nice routine with her boyfriend and that they've managed not to go shopping at high end boutiques or eat at the paparazzi-swarmed restaurants.
Maybe the third time will be the charm for Drew and she'll achieve a life of domestic tranquility away from the flashbulbs. She seems to realize what she needs to do so that people won't needlessly speculate about her, with this recent minor exception.
Justin is shown at the premiere of "Walk Hard: The Dewey Cox Story," in which he plays George Harrison. on 12/12/07.The tattoo on his next is not permanent and is reportedly for a role. Drew is shown at The Rodeo Drive Walk of Style Awards on 2/8/07, thanks to PRPhotos.