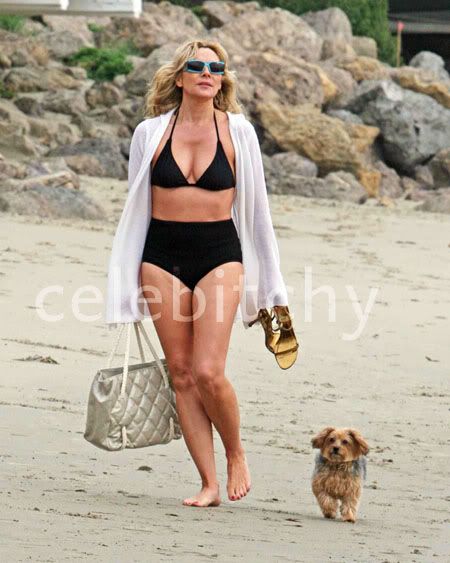 The Daily Mail is running their typical flaw-finding piece on these photos of 51 year-old Kim Cattrall filming a beach scene for the Sex and the City movie. She looks pretty good, but they're obligated to point out her "skin condition." They call the article "Cellulite and the City":
The actress' massive bikini bottoms failed to hide the dimpled truth, as her cellulite was plainly on show while she filmed scenes on the Malibu beach.

As the blonde star strode along the beach, gold stilettos in hand, despite retaining a still enviable figure, her thighs showed the tell-tale signs of the dreaded skin condition which defeats many women.
[From The Daily Mail]
How ridiculous to say cellulite "defeats" many women, as if we're unable to get out of bed because our asses aren't smooth like the airbrushed 19 year-olds in magazines. Maybe they could say "afflicts," but that sounds like a disease. How about "affects," but it's not like it's affecting our ability to care for our children, do our jobs (unless we're models or movie stars) or even to don a swimsuit. This shit is getting out of hand.
Meanwhile one of the prettiest young television actresses, Jennifer Love Hewitt, answered some questions on the red carpet of 27 Dresses about her bikini controversy. She said "It made me feel a little embarrassed to be honest. It made me a little sad. It hurt my feelings.. And I think we should let people be!"
Many people were saying that Love Hewitt claimed to be a size 2 after she was criticized for her regular sized body, but she never said that. She was simply talking about the issue of body image and when her words are read in context you can tell that she's just criticizing the unrealistic standards that are set on women.