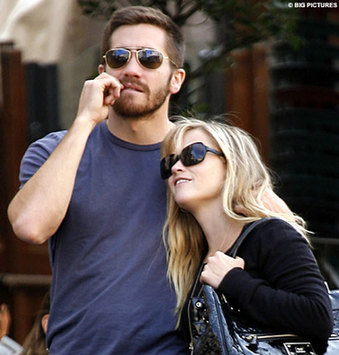 The San Francisco Chronicle's gossip blog, The Daily Dish, claims that Jake Gyllenhaal has proposed to Reese Witherspoon. It sounds like they're quoting a gossip magazine, probably one that came out today for next week, but they don't source their quotes. They say that Jake proposed to Reese way back when they had that much-publicized trip to Rome together, but that Reese demurred because it was too soon after her divorce from Ryan Phillippe. Reese has supposedly accepted Jake's proposal now, though. This news comes right after a story that Jake was pouring over engagement rings at Cartier with the help of his sister, Maggie, but that he settled on a white gold "Love" necklace featuring two rings intertwined.
Friends claim Gyllenhaal proposed to Witherspoon during the couple's vacation in Rome last October. Oscar-winner Witherspoon said "not yet," so soon after her split from Ryan Phillippe, but reportedly has since said "yes," after consulting with close friends.
undefined

A pal says, "Not only were they (her friends) crazy about Jake, they could see he was absolutely nuts about her. But you've go tot understand — Reese is a one-man woman who hates playing the field.

"When Jake proposed in Rome, he knew Reese needed time, and didn't really expect her to say 'yes' right away. He just wanted her to know that he was serious about their relationship — serious enough to make her his wife."
[From SFGate.com]
These two took pains not to be seen together at what was thought to be the beginning of their relationship last spring. They were first photographed together off set in July. They were seen in all-too-clear shots seeing the sights in Rome this October and looked like they were posing for the cameras right around the time that their film, Rendition, came out. People claimed their relationship was for publicity, but now they've been seen together on separate occasions getting coffee and going hiking with Reese's kids. They even took a vacation together this fall, and may have been on vacation in Martha's Vineyard together late this summer.
It seems like these two are for real, but are they really engaged? It's possible, but doubtful. We'll have to see if Reese is seen out with an engagement ring, or even her beautiful new necklace.