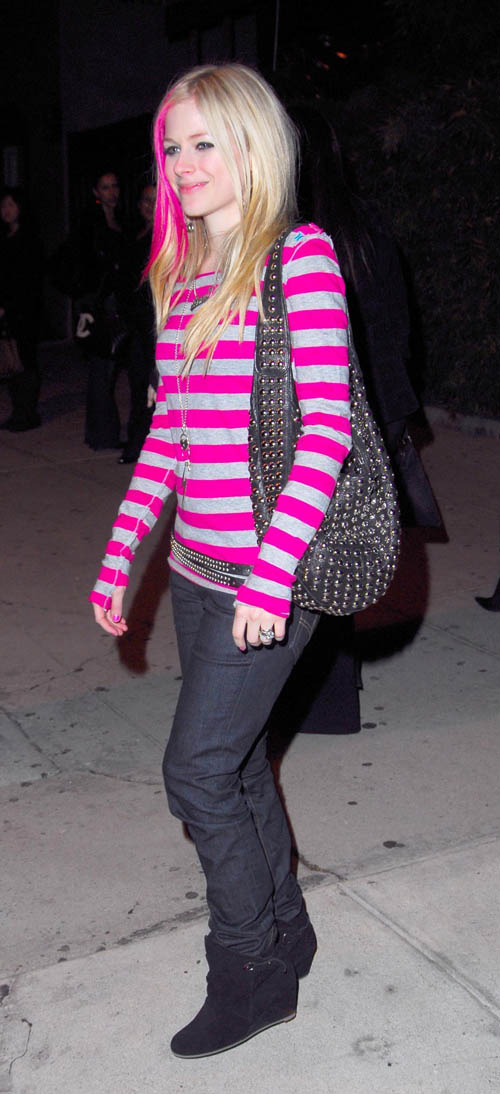 Avril Lavigne's rep denies that the pint-sized pop singer is pregnant. A Canadian entertainment blog reported an "exclusive" today that Lavigne's husband, Deryck Whibley, was telling friends that his sneering bride was in the family way. Avril's rep says it's just not true. There's another rumor that Avril could be having trouble in her marriage. Last week's National Enquirer reported that Deryck was "acting like a single man" and was seen looking flirty with everyone's favorite homewrecker Paris Hilton as well as collecting a phone number from another woman at a club on December 17th. It could have all been innocent fun.
Meanwhile Avril has given an undisclosed settlement to the band The Roobinos for their claimed copyright infringement of their 1979 single "Boyfriend." A settlement doesn't mean that she's admitting to infringing the band's copyright. Her manager says he merely wanted to avoid a costly court battle, and Avril denies ever hearing the song. This is not the first time that Lavigne has been accused of plagiarism.
Here's a comparison of the two songs, and you can see why Avril would want to make this one go away quietly:

We got a lot of well-deserved flack for repeating Star Magazine's incorrect story that Avril only played a couple of songs at a free concert in Burnaby, British Columbia before ditching to go see the Spice Girls. She did play a full set at that show and it's well documented.
As to why we report with a negative slant on Avril, after reading several self-important interviews with her and seeing how she repeatedly flips off the camera as well as spits on paparazzi, we decided that we don't like her. She doesn't seem to like or appreciate her job, and is known for giving listless performances.
Avril is seen leaving Koi restaurant on 11/29/07, thanks to WENN.