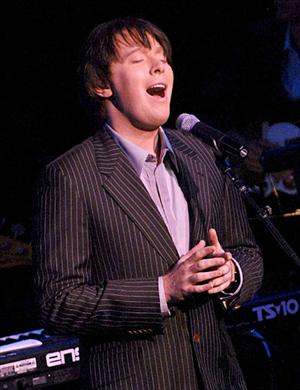 Clay Aiken was rude and dismissive in an interview with Newsweek recently. Considering how many of his fellow AI stars have been dropped from their record labels, he should adjust his attitude and take a dose of humility. Acting like a spoiled brat is not going to win him any fans. He talked about his new role in the musical "Spamalot," and when the interviewer asked him if women throw their panties on stage for him, he said they do and that he's had Depends thrown on stage that said "Your older fans love you, too."
When the interviewer asks him about the infamous foot incident on the plane, in which the FBI were called after he had an altercation with a woman who objected to his feet being on her armrest, the tone of the interview changed and he said he wasn't going to address that again. To be fair, he did talk about it before in a dismissive statement in which he seemed to suggest that he didn't do anything wrong. Then he gets all nasty and doesn't even bother to give bland noncommittal responses, which is an essential skill that anyone who talks to the press as part of their job should learn.
Do women throw their underwear on stage?
In Minneapolis, we had a lady throw her panties in the middle of "Silent Night." I'm like, Are you kidding me? We've had ladies throw Depends that say, "Your older fans love you, too."

How did you get into a fight with that lady on a plane?
I'm not going to talk about it.

I was just curious because you've never talked about it.
I did talk about it.

What about the Kelly Ripa thing?
I'm not going to discuss it.

Did you think it was homophobic?
I'm not going to discuss it.

What do you want to talk about?
I think we're done.

Can we talk about something fun?
No, we're done. I thought NEWSWEEK would be more reputable. I'm surprised.

But I think people are curious about it.
It was a year ago. This is NEWSWEEK. It's not the National Enquirer. I'd hate to have a job where I had to be rude to people.

We're just having a conversation.
Change the subject! I'd never take a job where I had to do something that I didn't want to do.

What about all those Ford commercials on "American Idol"?
That wasn't a job.

It was part of your job.
It wasn't a Ford commercial. It was a music video. It was a completely different thing.

I'll change the subject. What do you do for fun?
I watch the news. I read news magazines, but I'm reconsidering that now.

Are you going to watch "Idol"?
I haven't watched since season four. I compare it to high-school football–if it weren't for high school, we wouldn't be successful, but I don't need to keep going to the football games.
[From Newsweek.com via The Huffington Post]
I love how the interviewer shoots right back at him by bringing up those Ford Commercials when Aiken says "I'd never take a job where I had to do something that I didn't want to do."
So do you think Clay was thrilled to sing at a church Christmas concert in Wichita, Kansas? According to him he only does what he wants to do for his career, and who doesn't want to sing at a church where they consider homosexuality a sin? Not that their belief system would have anything to do with Clay.
Image via Newsweek.