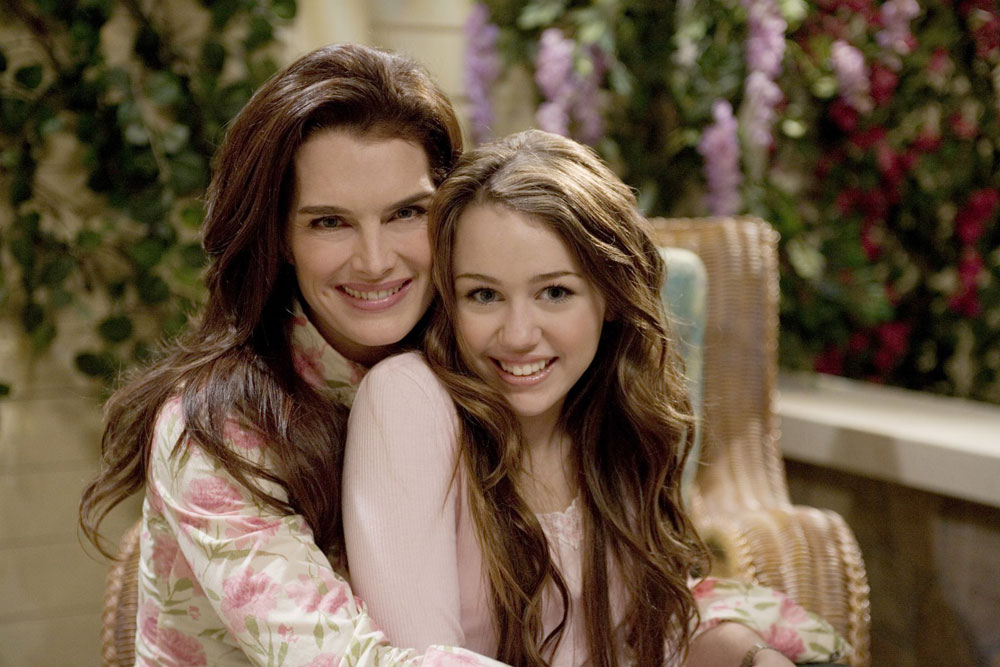 I don't know if this is true or not, but either way it's food for thought. Supposedly Brooke Shields, who has played Miley Cyrus' deceased mom in cameos on Hannah Montana, is urging the smack-talking singer/actress to make something of herself and go to college. Brooke graduated from Princeton with a degree in French literature in 1987. She doesn't really seem to use it in her line of work, but it was a growing experience for sure and who knows how she would have turned out if she didn't go to school and apply herself. Miley is said to be on board and to be considering college. Of course this news is in Star Magazine, so it could be total speculation. Star reported last year that Miley wasn't considering college, but that could have changed.
Brooke Shields plays Miley Cyrus' mom on Hannah Montana, but she's also cast herself as the teen's college counselor! "Brooke's been pushing Miley to go to college," a source tells Star of the Princeton grad. "She says she needs something to fall back on." And though home-schooled Miley loves living the rock life, the source says the 17-year-old is considering applying in 2010. "She'd love to be an Ivy Leaguer like Brooke!"
[From Star Magazine, print edition, January 11, 2009]
Miley has mentioned that she'd like to go to college, and once said she was interested in studying photography in London. She's 17 and is around the age when she should be considering higher education. As a role model to countless young women, Miley would be setting a great example by going to college. She has two films in development and her movie The Last Song, with boyfriend Liam Hemsworth, is out in April. She also has another final season of Hannah Montana coming up. If Miley is serious about going to college she'll have to make time for it. With all the opportunities she has I doubt she'll bother.
Photos are stills from Hannah Montana