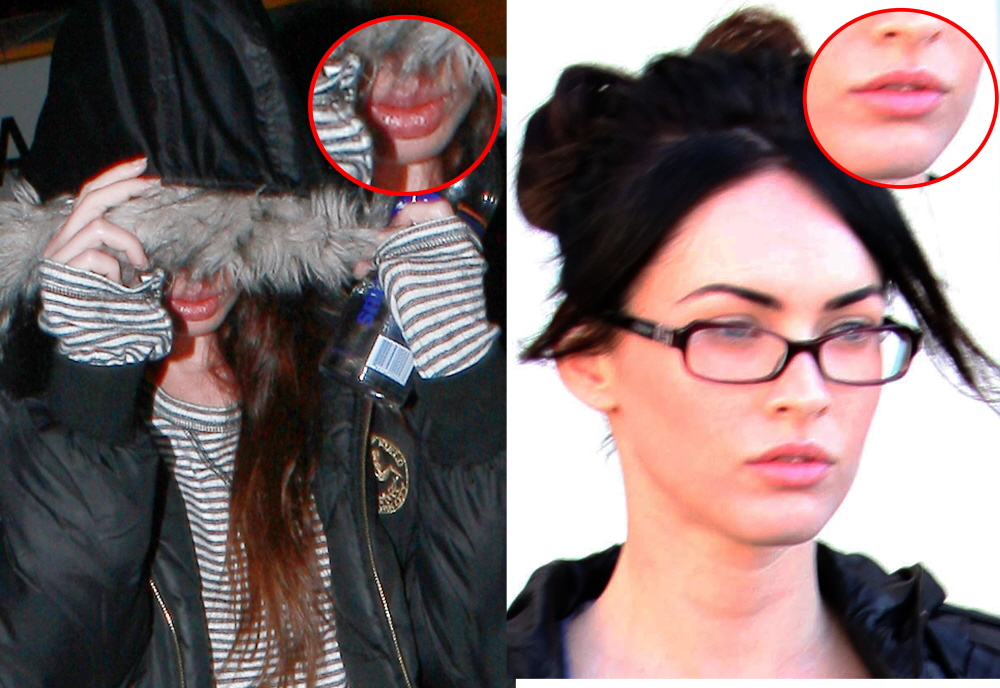 One of the many things that pisses me off about Megan Fox is that very few people ever call her on the extensive plastic surgery she's had. Throughout the past year, as I've written various Megan Fox stories, I've looked at photos of her over the past four or five years, and even in that short time span, she has radically altered her appearance. Mostly, I can see nose jobs (more than one) and lip plumping. I'm not sure about cheek implants and that sort of stuff, but I wouldn't put it past her. Plus, her hair changes a lot, and I think that contributes to how I see the shape of her face, so what I could attribute to cheek implants could actually just be a different hair style. In any case, I'd like to see more people calling Megan out on her crap, like they would if she was Demi Moore or Meg Ryan.
I may have gotten my wish – Fame Pictures snapped some photos of Megan with some mysteriously plumper lips on New Year's Day. Fame put the photos up against photos of Megan from less than two months ago, and it's pretty clear she's gotten plumped very recently. Of course, Fame added this bitchy note: "She's looking more like Angelina!" Gah! Doesn't Fame Pictures know that Megan wants to be the contradiction of stoic, unfunny Angelina?!?
In other Megan Fox news, our reigning Worst Actress of the Year is considered a frontrunner in the Worst Actress Razzies. The Los Angeles Times also predicts that Megan will be up against Beyonce (for Obsessed), Sandra Bullock (for All About Steve) and Miley Cyrus (for anything, I guess – no, wait, one of those Hannah Montana movies) amongst others (cough cough Kristen Stewart cough).
Also, Megan gave some kind of interview about her starring role in Jonah Hex, which isn't due out until June of this year. It makes sense that she's promoting it six months in advance, I guess. It seems like that's all Megan does, give dumb interviews to create buzz for her films. But even I wasn't prepared for how awesomely dumb this quote was: "I was ready to do some research into prostitution but I really didn't need to." Of course. Of f-cking course.
PICS of MEGAN FOX playing a hooker in Jonah Hex have set a few pulses racing already. But fans of the Foxy one may be disappointed, because she's set to keep her clothes on.

The Transformers star said she was relieved that she didn't need to know much about the oldest profession, because she had no sex scenes in the movie, which also stars JOSH BROLIN.

"I was ready to do some research into prostitution but I really didn't need to," said Megan. "The kind of prostitution that existed back then is very different than the kind that exists now. That was a very common way for a woman to make a living."

"Also, we don't really show much which I was happy about. If there had been more graphic scenes, I probably would have but the only sex scene that is in there is between Jonah and his lover."
[From The Sun]
Do you want one last piece of Megan Fox information? She adheres to the vinegar diet. As in, "Vinegar just cleanses out your system entirely. It will get rid of, for women who retain water weight from your menstrual cycle and all that, it gets rid of it really fast. I'm not one for dieting or exercising, 'cause I'm lazy and I have a really big sweet tooth, so I have to do cleanses every once in a while 'cause of the amount of sugar I take in." The Telegraph notes that every doctor thinks the vinegar diet is full of crap, but whatever…
Anywa, that's really all there is to say. Megan Fox, bad actress, plastic surgery, prostitution, dumb, vinegar, et cetera. That covers it. Happy new year!
Megan Fox (trying to hide) on January 1, 2010, compared to her deflated lips on November 14, 2009. Credit: Coqueran/Fame Pictures.