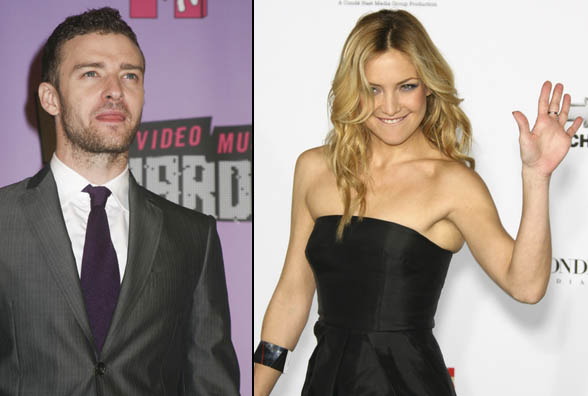 When I heard that Justin Timberlake and Kate Hudson were seen out together I thought that sounded random, but then searched the site and realized that these two were once briefly linked and that I even reported on it.
There was a rumor last year that Kate Hudson and Justin Timberlake hooked up at Kate Hudson's New Year's eve party to celebrate 2007 and that they suspiciously disappeared together upstairs at Kate's place for several hours. Timberlake was still with Cameron Diaz at the time, which led to a story that Kate told Cameron the next time she ran into her that it wasn't true that she slept with Justin that night.
Now Kate and Justin are said to have gone out to a club together and to have been spotted making out there, a claim Justin's rep denies. Justin is supposedly still with Jessica Biel while Kate Hudson is thought to be single after a breakup with Dax Shephard.
While his girlfriend Jessica Biel is away in England filming her next movie, Justin Timberlake has been hanging out with a former hook-up buddy.

JT and Kate Hudson were seen arriving at West Hollywood club Villa at the same time on Friday and then leaving just minutes apart a few hours later.

Star magazine even reported that the pair made out at the club, but JT's team have strenuously denied those claims.
[From News.com.au]
Maybe it's true that these two met coincidentally at the club and that the makeout part is fabricated. Either way, it doesn't seem like there's much to go one to suggest they're anything more than friends until there are more photos and sightings.
Kate Hudson and her Fool's Gold co-star Matthew McConaughey are among the presenters at next week's SAG awards, which will proceed despite the writer's strike as the WGA has granted the awards a waiver. Look for more star power than usual as the celebrities try to get their awards show fix.
Kate Hudson is shown at 2007 Movies Rock on 12/2/07 and Justin Timberlake is shown on 9/9/07 at the MTV VMAs, thanks to PRPhotos.