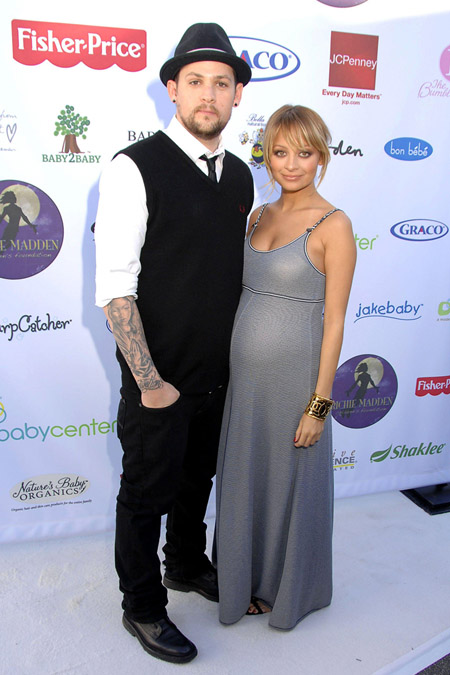 Nicole Richie and Joel Madden's relationship was so troubled that they not only did they call off their wedding, they were about to break up before their baby was born, claims The Enquirer. Joel was said to be upset with Nicole for refusing to stop working before the birth and was about to end the relationship, but after the baby was born they realized that their problems were insignificant and decided to make it work. The way The Enquirer describes it makes it sound kind of sweet. Still, these two have had a reportedly tumultuous relationship so it's not likely that everything was magically fixed once newborn Harlow arrived:
"Nicole wouldn't get off her feet and stop working, despite warnings from friends, family and Joel to take it easy," said another source.

"She was obsessed with getting the recording of her first CD underway."

Nicole also threw herself into the couple's charity – the Richie-Madden Children's Foundation – and became consumed with baby showers and planning the wedding.

"Finally, Joel said enough is enough. He told Nicole that if she wouldn't listen to him about something as important as their child, the wedding was off," said the source.

"Nicole was blindsided, but Joel didn't feel he had any other option. He was ready to walk."

"Happily, everything changed when Nicole delivered their healthy, 6-pound, 7-ounce daughter at L.A.'s Cedars-Sinai Medical Center.

"Cradling the baby, Nicole looked up into Joel's eyes and whispered: 'I'm so sorry. I love you,'" said the friend. "From that point on, all was forgiven and the wedding was back on."
[From The National Enquirer, print edition, January 28, 2008]
It sounds like typical pre-baby stress and maybe Nicole wanted to make sure she had accomplished everything she wanted to beforehand so that she could relax and focus on the baby. There was a story that the wedding was postponed because Nicole was warned not to get too stressed over it while she was pregnant. Joel has pledged to marry Nicole and told Ryan Seacrest that "Obviously, marriage is in our future," but that he he didn't "know when or where or how, but right now our priority is our family and is the baby." Now if they do go through with it they'll have a little ring-bearer to celebrate with them. Their two dogs are also said to be walking down the aisle in little custom-made costumes.
Harlow Winter Kate Madden has yet to make her first public appearance and everyone is wondering which magazine will get the first photos.