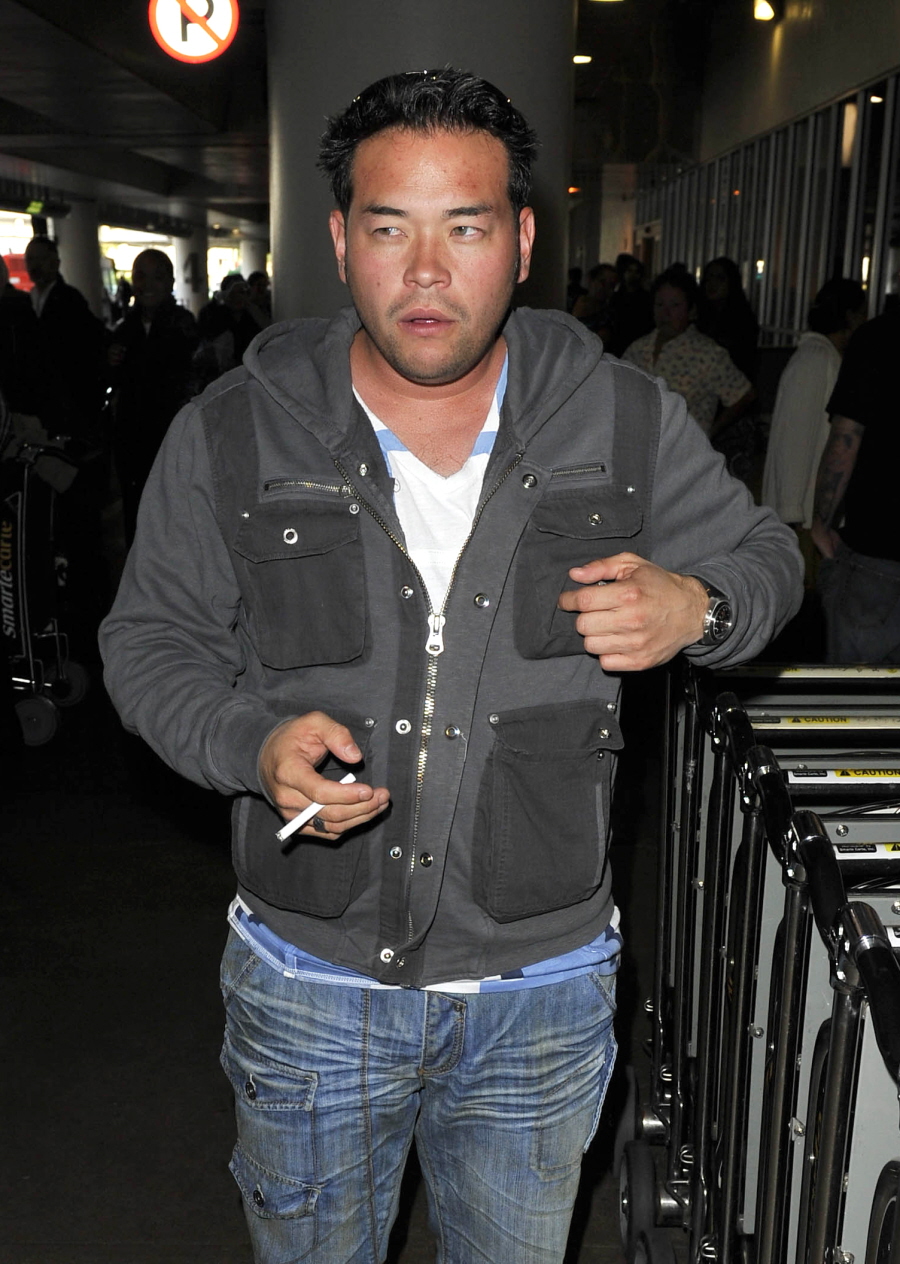 I don't think Jon Gosselin is capable of being by himself for more than five seconds. The father of 8 has already found a replacement for girlfriend Hailey Glassman – his one time "soul mate." What's weird, though, is that Hailey, who was the other woman in the high-profile Gosselin divorce, now has the nerve to act like a victim/woman scorned. Seriously – she was having an affair with a married dude. What did she think was going to happen – they would ride off into the sunset in their matching Ed Hardy activewear?
Is Jon Gosselin once again finding solace in the arms of a new woman?

According to Internet reports, Gosselin is already dating again – having hooked up with a woman named Morgan he met while skiing in Utah. "He's a guy who doesn't like to be alone," says a source close to the father of eight. "He has a girl that he likes, but they have been taking things very slow."

Also moving slowly? Gosselin's plans to settle his differences with ex-girlfriend Hailey Glassman, who allegedly trashed the Manhattan apartment they shared, according to his attorney Mark Jay Heller, and whom Jon is accused of shoving during a pre-holiday argument.

No Meeting, So Far
Despite reports to the contrary, Glassman and Gosselin have yet to meet, says her lawyer Stephanie Ovadia. Perhaps that's because considerable bitterness remains between them.

Says the Gosselin source about Glassman: "Jon feels much better without her. He felt that she was sucking him for all his money and not being faithful to him. He is happy to be done with her."

For her part, Glassman is attempting to take the high road, having recently moved to a new apartment in New York's Murray Hill neighborhood. "I've been through way too much for a 22-year-old, and the amount of stress and pain I've endured is unfathomable," Glassman tells PEOPLE.

"[But] in life, you need to be an optimist, I've learned. You have two options: You can either be sad and depressed and pity yourself, or be the best you can be. Like Robert Frost says, 'If I could sum up life in three words, it would be 'Life Goes On.' " (The poet's exact words were, "In three words I can sum up everything I've learned about life: It goes on.")

Still, Glassman can't resist taking one more potshot at the fallen reality star: "Congrats to the new girlfriend and I wish [Jon] luck with his move to Utah. I mean, I'm not sure if he remembers he has eight children back in Pennsylvania."

And in what might be a reference to her former boyfriend's now-canceled TLC series, Glassman adds: "Remember Jon – those eight little people you hung around with while you were running your legalized sweat shop?"

Says the Gosselin source: "He will always love his kids. His kids are what keep him going."
I think it's rich that Hailey is throwing Jon's children in his face. I'm sure his kids were the first thing on her mind when she starting fooling around with their father, while he was still married and living with their mom. Whatever. They're both gross, class-less a**holes. As much as Jon makes me want to take a "Silkwood" shower, Hailey is 10 times worse. The only good thing about Jon getting a new piece is that the old one, hopefully, will drop off the radar forever. As for Jon, what a difference a couple of months makes. Not long ago he was proclaiming his undying love for Hailey, and her family, and even said he was going to convert to Judaism. I don't think the man is capable of telling the truth about anything. How he managed to find a woman dumb enough to go out with him after all this is beyond me. Maybe they don't have TVs or magazines or the Internet in Utah.
Jon Gosselin in LA on November 12, 2009. Hailey Glassman on December 16, 2009 in NY. Credit: INFphoto.com