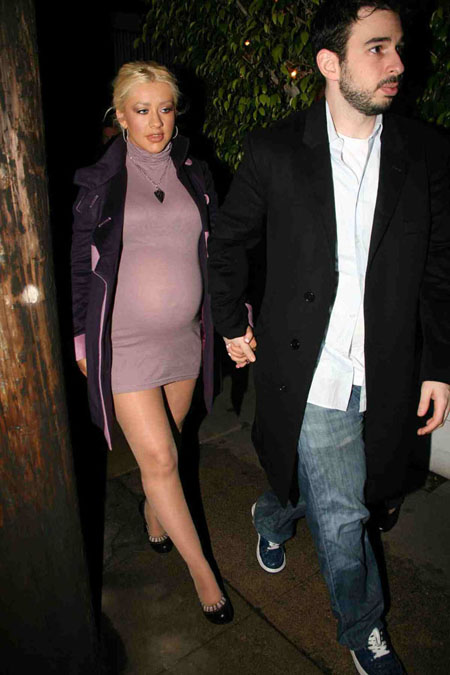 According to Star Magazine Christina Aguilera didn't have a scheduled C-section and actually was in labor at the hospital for a full 24 hours before a section was performed. She was also in full hair and makeup, although in this case her gender was quickly ascertained:
A source tells Star that the glam singer, who arrived at Cedars-Sinai Medical Center on January 11 (she stayed two doors down from Nicole Richie) to have son Max Liron, pushed for more than 24 hours – wearing her trademark red lipstick – before her doctors advised that she have a C-section.

A source close to Christina and hubby Jordan Bratman explains, "Her water broke on Friday [Jan. 11] and she started having contractions. But then they stopped, so she was given a dose of Pitocin, which is supposed to increase the strength of contractions. But Christina never dilated beyond four centimeters."

Although Christina, 27, was initially against delivering her baby by C-section, the source says, "She really wasn't left with an option."
[From Star Magazine, print edition, January 28, 2008]
It seems that those earlier stories about Christina having a scheduled c-section may have been false. If all those details were true, someone at the hospital violated HIPAA regulations by giving the scoop to Star Magazine.
The fact that she was in full hair and makeup sounds kind of inevitable. Dearly-departed Tammy Faye Messner also refused to let anyone see her without her trademark clumpy lashes to the point of going to sleep with her makeup on when she was filming "The Surreal Life." When it gets to the point that you can't give birth without bright red lipstick, you've got a problem. Surely that's an occasion that would call for a more subtle shade of mauve.
Christina Aguilera's nursery has a nautical theme and cost as much to outfit as a well equipped car. She spent $35k at Petit Trésor alone. Her white and blue circular crib with 18k gold accent was $1,150 and little Max will sleep on hand-embroidered bedding. The 600-square foot nursery has while walls decorated with photos of the ocean and sailboats.