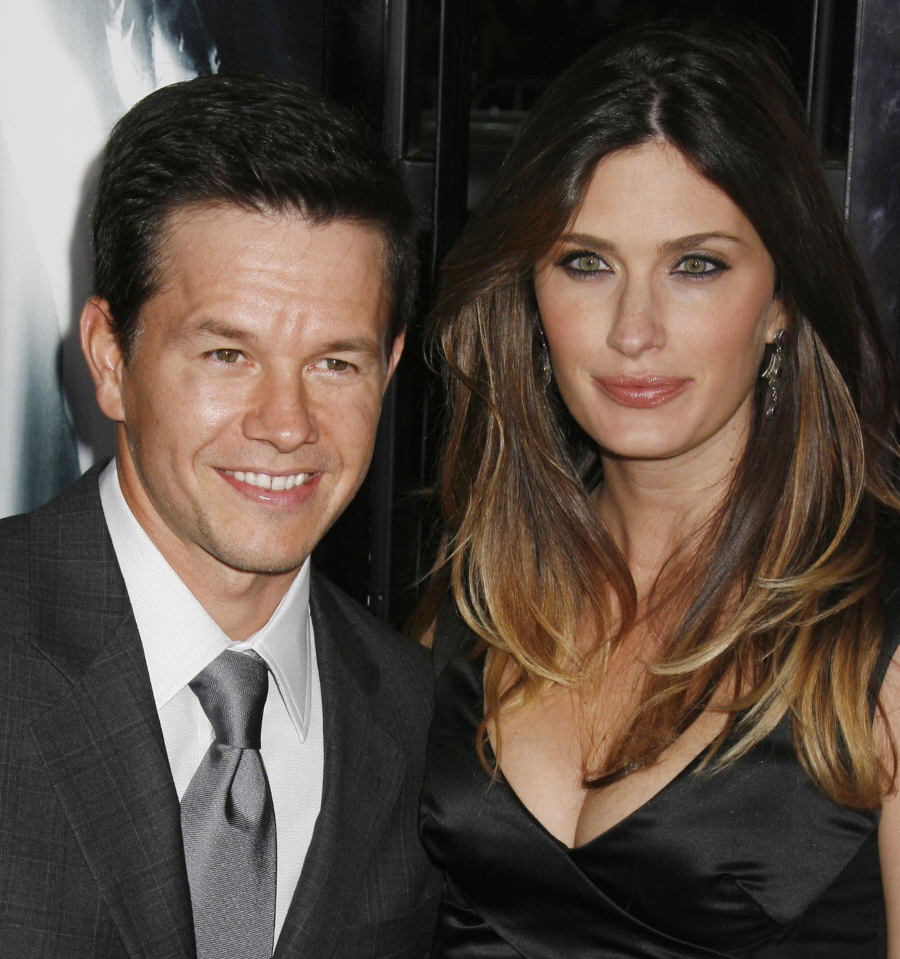 Throw another one onto the pile! No, no, that was rude. Mark Wahlberg and his beautiful wife Rhea Durham have welcomed their fourth child, a little girl. The baby was born Monday evening in Los Angeles, and Mark and Rhea decided to keep on going with the nice, traditional baby names – they've named her Margaret Grace. Maggie Grace (you know that's what they'll call her) joins her big siblings Ella (age 6), Michael (age 4) and Brendan (age 1). So, now it's even right? Two girls, two boys.
Mark Wahlberg and his wife of six months, Rhea Durham, welcomed their fourth child Monday night, Jan. 11, at 6:35 pm.

The couple had a daughter named Margaret Grace at Cedars Sinai Medical Center in Los Angeles, a source tells Star.

Mark's new film The Lovely Bones opens across the country later this month and the couple is on cloud nine with the birth of their baby.

The Wahlbergs, who only married last August in Beverly Hills after having three kids together, are over the moon with their fourth child and Mommy and baby are both doing well.

"Mark was in the delivery room with Rhea," says the source. "And he cheered her on all the way. Rhea was a real trouper, and now they can't wait to get home and be a big happy family with their four kids."

Rhea and Mark's three older children are Ella, 6, Michael, 4 and Brendan who is 1.
[From Star Magazine]
Congratulations to the happy family! I'm sure Rhea will be knocked up again in no time. I'm serious. I'll give Rhea so much credit though – she seems to love being pregnant, and she always has a drop-dead gorgeous pregnancy, and all of their kids seem happy and healthy, so God bless.
I just wanted to bring up one more thing, just because these comments seem to be getting some press. Mark gave an interview to British Cosmopolitan Magazine to promote The Lovely Bones (where he plays the father of the murdered girl, Susie Salmon). Mark ended up talking about his relationship with Rhea, and the results were… weird.
Mark Wahlberg took his now-wife to church on their first date, it has been revealed.

The 'Lovely Bones' actor wanted to share his faith with Rhea Durham – who he married last August and is currently expecting his fourth child with – as soon as they met and admits it made a lasting impression on her.

He said: "We met through a mutual friend in New York. I asked if she wanted to hang out the next day and she did, so I said: 'Well, come to church with me.'

"She was raised a Christian, not a Catholic like me. She did come – and now she's converted."

Mark says he and Rhea always try to keep their romance alive in their relationship by setting aside time for one another.

He explained to Britain's Cosmopolitan magazine: "I try to be romantic. Having kids means once they're in bed, being romantic is cuddling on the couch and watching TV.

"But we do have date nights every week. I have one with my daughter and one with mommy."
[From Ireland Online]
Two things are getting play. First, the "She was raised a Christian, not a Catholic like me. She did come – and now she's converted." Maybe he just said what he meant the wrong way, but I was under the impression that Catholics were Christians…? And secondly, the whole "I'm super-religious" thing is strange when their first three children were born before Mark and Rhea were married. I mean, no judgment, and I don't really care either way, but don't play the "I'm such a good Catholic" card when you had three babies out of wedlock. It reminded me of twice-divorced Jennifer Lopez's comments about how she was so "traditional".
Mark Wahlberg and Rhea out in LA on January 6, 2010, and with daughter Ella in LA on August 29, 2009. Header photo of Mark and Rhea at the 'Max Payne' premiere on October 13, 2008. Credit for all: WENN.